Cascate del rio Verde
(Cascate del Verde, Niagara Rio Verde)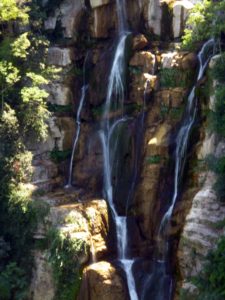 Cascate del Rio Verde is the largest waterfall of the Apennines, in the region Abruzzo, Italy. The waterfall is located near Borello (south of Pescara) in "Riserva naturale guidata Cascate del Verde".
From the town of Borello there are signs to the waterfall heading to a car park east of the town (appr 800 meters). There is a big car park (gps 41.915495, 14.314417) next to the entrance of the park(with a ticket office). The entrance fee is €2 (in the year 2019)
From the parking it is a 20 minutes walk to the first good view on Cascate del Rio Verde. There are several viewpoints to enjoy the second highest waterfall in Italy. The trail descents to the base of the waterfall where you can see most of the waterfall. Best viewpoint is from a little distance at a meadow where you have a total shot of Cascate del Rio Verde.
Cascate del Rio Verde is formed by a triple jump which together measures 200 meters. You can admire Cascate del Rio Verde in their form and in their beauty throughout the year.
The Regional Nature Reserve Cascate del Rio Verde is located in in the municipality of Borrello (Chieti) in the region Abruzzo.
The area covers approximately 287 hectares and includes the highest waterfall in the Apennines overlooking the middle valley of the Sangro, running between rock bastions, towers and limestone pinnacles.