Cascate del Rutor is the biggest waterfall in Italy and is located near La Thuile in the region Valle d'Aoste, Italy. In the village of La Thuile you have to go left to "La Joux". This a 4 kilometer drive on a quiet road until the road ends. Sometimes you will se a signs "cascate". At the end there is a small parking (gps 45.689270, 6.961205).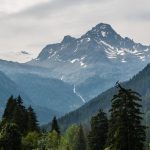 At the parking you already see how big Cascate del Rutor is. From a far distance you will have a clear view on the upper part of the waterfall. This picture is taken in July and note that there is still snow at the upper part of Cascate del Rutor. The lower part of the waterfall is situated at an altitude of appr. 1.700 meter and the upper part at 2.050 meter.
From here you have to follow the trail through the woods upstream following the river Rutor (there are signs). Cascate del Rutor is my al time favorite waterfall in Italy because of its exceptional beauty and its enormous power. Cascate del Rutor is the highest waterfall in Italy fed by the glacier Rutor. There are 3 major steps with a total height of 700 m!
The first waterfall is easy to reach, in about 15 minutes. From there on the trail keeps on climbing until you reach the second waterfall in 50-60 minutes. In the meantime the waterfall keeps on cascading, so there is no time to be bored. The surrounding is magnificent and sometimes you see some small waterfalls in a tributary.
After the second fall it is a 10-15 min walk to the third waterfall of Cacate del Rutor, which is also the most powerful one. Bring a raincoat because you will get wet.
After this you can keep on walking to the glacier (which we didn't) and I think there will be a fourth waterfall which I saw from a distance. Unfortunately the weather wasn't perfect for photography but we still enjoyed this awesome waterfall. I even think I will place it as one of my favorite waterfall in Europe.
But there are several other great waterfalls in the Aosta valley. Cascata di Lillaz is a visit worthwhile and easy to reach. In front of the waterfall locals where bathing in the river. The one I also liked, quite unknown, is Cascata di Isollaz. Easy to reach if you know where to got to. To see all waterfalls in Italy on a map go to my "waterfalls in Italy map"
Note: I was in Italy in July/August 2014 in an extremely wet summer. The volume of the waterfall can be different from the photo's I took.