Devil's Pulpit – waterfall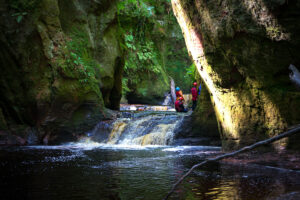 The Devil's Pulpit is an amazing rock formation in a gorge named Finnich Glen. In the gorge there is also a small waterfall in one of the most beautiful scnenries that I ever saw. Midday a few sunbeams reach the surface of Finnich Glen gorge and light is playing with the surrounding. The red stones, the water and the dark parts of the gorge are a perfect location for the perfect picture.
Devil's Pulpit is located north of Glasgow, near Craigheat. It is a short drive (30 minutes-23 kilometer) over road A809. The waterfall or Devil's Pulpit is easy to find if you know where they are. There is a small parking (three cars, gps 56.03146, -4.41759) near the trailhead to Finnich Glen en Devil's Pulpit. But I have to warn you: nowadays it is a very popular destination and parking your car can be tricky. A bigger parking is located a little more north at the crossing with the B834 (gps 56.034136, -4.419240). But still you have to be lucky. I saw people parking their car further north along road A809, if you don't mind spend extra time walking to the trailhead of Devil's Pulpit and Finnich Glen gorge.
From the trailhead (gps 56.031460, -4.417590 – there is an information board) it is a short walk, appr 5-10 minutes. Just follow the path and keep a little left (following the river) until you stairs going steep down. The path can be a little tricky but don't rush and take your time. Soon you will be in the gorge where you see a spectacle of light and surroundings which make this location so popular.
Take a towel with you because you have to walk a little upstream, through the river, to see the best part and to get closer to the little waterfall.
Another reason why Finnich Glen/Devil's Pulpit (both names are used for this location) is so popular is, because it was a film location in the TV series "Outlander". But I have read it is also used in other films like King Arthur, Pokemon and Outlaw King.
If you wonder where the name Devil's Pulpit comes from? You can see that the with moss covered gorge are red at the bottom. According to the myth the Devil would appear by the rock and address his servants as the blood-red water flowed around his feet. The word pulpit refers to an elevated platform often used for preaching.