Falls of Falloch
(Eas Falach)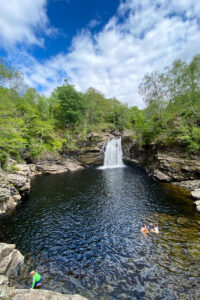 The Falls of Falloch is an unknown but really nice waterfall along the West Highland way from Glasgow to Fort William, the A82, In Scotland (UK). Nowadays many tourists visit Scotland, beginning in the south and going north. Just after Loch Lomond there is a (mostly crowded) parking along the road (gps 56.349961, -4.697118). There is a big brown sign "Falls of Falloch parking". In the summer of 2023 parking was still for free. I hope it stays this way in the future…
From the parking it is only a few minute walk to the Falls of Falloch dropping down over 9 meter in a single drop.There is a small rapid before you reach the waterfall, but walk a little further upstream along the path.
From the rock you have an amazing view on the waterfall and frequently people are swimming in the pond in front of the Falls of Falloch. It is easy to climb down to the waterfront. When we visited the waterfall in the summer of 2023, the flow rate of the river was quite respectable and the sun was shining. The weeks before it rained now and then so a sunny day was fantastic! Also for the many pictures I took.
The name Falls of Falloch comes from the Gaelic name for the waterfall "Eas Falach, which means hidden waterfall.
Scotland is famous for its tall and beautiful falls and this was the second waterfall we encountered, a very gorgeous one. One of my favorite waterfall in Scotland is a very popular series of waterfalls on the "Island of Skye", the Fairy Pools waterfalls. Also a swimming spot with magnificent views on the mountains.