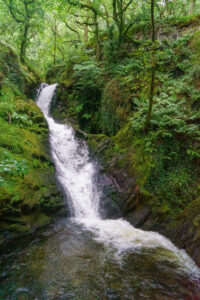 The Dolgoch falls are a nice series of waterfall where the river Nant Dol-goch cascades down over multiple steps (three major falls).
The Dolgoch falls are located in Dolgoch, northeast of Tywyn. From the A487 take a small road towards Tall-y-Linn and proceed to Dolgoch. There is a big paid parking and you pay £2 for four hours (summer 2023). There is also a train station at the Dolgoch falls, nearly at the first waterfall.
In the summer of 2023 we were on our way from Tenby to our next stop in Betwys y Coed and we decided to make a small detour the Dolgoch falls. It started raining but the views on our roadtrip were great. You can't miss the parking of the Dolgoch falls. Although it rained I was curious how the waterfalls look like. I had seen some pictures, a long time ago, and I didn't knew what to expect.
Tthe path is well signed although I wasn't sure how to start. I kept on walking left of the river until I reached the first drop. My wife went back to the tearoom but I kept on walking up to the next drop (there are several waterfalls/drops). At the upper part of the Dolgoch falls you can cross the river and descend down at the other side of the river Nant Dol-goch.
The walk along the Dolgoch falls is easy and a roundtrip takes about 40-50 minutes. The waterfalls weren't the most impressive waterfall I have seen in Wales but nice enough to visit. The surrounding is gorgeous and I think with good weather I should have experienced it better. Afterwards you can enjoy a drink and something to eat in the Dolgoch Tearoom at the parking.