Engstligenfälle
(Engstligenfall)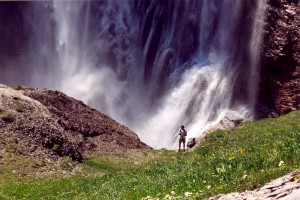 The Engstligenfälle is in my opinion the most beautiful waterfall in Switzerland and is located near Adelboden.
From Thun/Spiez drive south on highway 6 and take the exit Reichenbach/Frutigen.  Follow the road and follow the signs to Adelboden. When entering Adelboden go left at the roundabout at the big sign "Parking Engstligen". Follow the road and the signs. In the far distance you already can see the majestic Engstligenfälle falling down from the mountains over two big stages. Keep on driving strait ahead and follow the sign Engstligenalp. It can't miss because the Engstligenfälle keeps in sight.
Park the car at the cable station if you want to take the cable to the top of the waterfall, the Engstligenalp. More information about the cable can be found here.
It is also possible to walk up to the top of the Engstligenfälle, an ascend of almost 600 meter!!! At the top you can take a path down that runs along both drops. Walking down is quite demanding for the knees but less exhausting then going up.
The Engstligenfälle has a total height of 415 meter with a single drop of 135 meter. The waterfall has two major stages and is quite powerful. Best time to visit the Engstligenfälle is early summer when a lot of snow is melting down from the Engstligenalp with some mountain peaks above 3.000 meter. I think there are also some small glaciers that feed the river Engstligenbach.
It is years ago that I was at the Engstligenfälle but the waterfall is very impressive, it is a very tall waterfall and nature is astonishing. The Engstligenfälle deserves a place in my top10 best waterfalls in Europe.
There are several other nice waterfalls near Adelboden. You can drive to Kandersteg and visit the Gasteretal with several great waterfalls. I liked the Geltenfall/Geltenbachfall because the waterfall is being fed with water that comes out of cave.