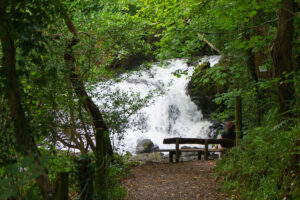 The Fairy falls is a scenic waterfall in the hamlet of Trefriw, Wales in the United Kingdom. The waterfall is not very big but still nice to visit.
The waterfall is located near the Trefriw Wooden Mill. There is a big parking at Gower road (gps 53.150720, -3.824108), near the bridge at Trefriw Wooden Mill.
From the parking walk back to Trefriw Wooden Mill and walk left around the building. Here you can cross the river (after a short steep ascent). Follow the river upstream, along the path, following the river upstream, until you see the Fairy falls. The Fairy falls is a 6 meter high scenic waterfall, nice to visit when you are in the area.
Not all the water in the river Afon Crafnant goes to the Fairy falls. Upstream water is diverted to a pipeline which goes to a power station. Still the flow rate of the water in the Fairy falls is quite respectable. at least when we visited the Fairy falls July 2023. The source of the river lies at at a lake Llyn Crafnant. The name Crafnant comes from the Welsh word"craf", which means garlic, and "nant", a stream or valley. I also saw small river in France with the name "nant" in it.