Fragsburger wasserfall
(Cascata del rio Sinigo, Sinichbach wasserfall)
The Fragsburger wasserfall or Cascata del rio Sinigo (in Italian) is one of the biggest waterfalls in the region of Trentino – Alto Adige (Südtirol), in Italy. The waterfall is located south of Merano, at Sinigo.
From Merano drive south to Sinigo over road ss38, take the exit Merano Sud and turn left to Sinigo. In Sinigo you have to find your way up to the Fragsburger castle/hotel. There is a parking (gps 46.638565, 11.194398) at the foot of the Fragsburger hotel specially made for visitors of the waterfall. This is also the trailhead to the Fragsburger wasserfall.
From the parking walk north, along the vineyard, to a trail that runs along the forrest and the vineyard. Small signs are pointing to to the Fragsburger wasserfall (Cascata del rio Sinigo). The walk is easy with a nice view on the vineyard and the Fragburger hotel. The walk takes appr. 15 minutes (1 kilometer) over a wel maintained path and the ascend is slightly up.
There used to be a path to the bottom on the waterfall with a wooden suspension bridge in front. Nowadays the trail is closed but you still can see the leftovers down at the waterfall.
When I visited several waterfalls in Italy the Fragsburger wasserfall (Cascata del rio Sinigo) was one of the most beautiful waterfall I visited. Already from a distance you can see how impressive the waterfall is. With a single drop of 135 meter and a huge waterflow in springtime it can be very impressive. I measured a total height of 180 meter, higher then the figures mentioned on Internet.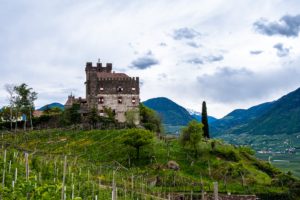 The pictures I took where made end of April 2019. After a very warm week temperatures where dropping and it was quite cold. Still there was a lot of melted snow in the river Sinichbach (Sinigo). I also see the name Sinichbach wasserfall returning on Internet. So it is a beautiful waterfall with several names.
If you are near Merano or Bolzano it is a detour worthwhile. On the way to the Fragsburger wasserfall you have fantastic views and you drive by a nice castle called Castel del Gatto.
There are several other beautiful waterfalls near Merano. I really did like the Partschinser wasserfall and the Aschlbach wasserfall at Gargazon, both within a 30 minute drive.