Gössnitzfall
(Gößnitz wasserfall)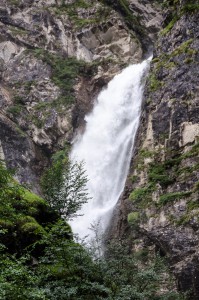 The Gössnitzfall or Gößnitz wasserfall is a superb waterfall near Winkl-Heiligenblut in the region Kärnten, Austria.
This waterfall was the big surprise of my visit to Austria. After visiting the Jungfernsprung I had some time left. Without expectations I visited the Gössnitzfall and it became the highlight of my short stay (because of the bad weather) in Austria. In a gorgeous environment this waterfall thunders down with such a great power, you will be impressed.
At Winklern, near Heiligenblut, there is a parking from where a trail starts. I am not sure if I chose to park here (gps 47.044549, 12.822076), but it seems that this is the trail I took. The walk is easy and pleasant and it took me appr. 30 minutes to reach the Gössnitzfall.
In the beginning you walk on an unpaved road until the trail begins. I choose the right side of the road. After a short walk (staying near the river) you have the first view on the fall, but you can't see the waterfall totally. Cross the river and walk a little bit back until there is a sign "viewpoint". Climb up and there is a magnificent view on the Gössnitzfall. Note: you will get wet!
The river Gossnitzbach plunges down with great force over 80 meters. The gap between the rocks is very narrow and the water tries to find its way to the valley with great power.
The Gössnitzfall is situated in the woods and the sun had difficulties to find its way to the waterfall. Best time to visit the Gössnitzfall is midday. The water of the Gossnitbach falls towards the north in a sort of curve in the mountainside. Best season to visit the Gössnitzfall is late spring or early summer, maybe also after heavy rainfall.
There are several other gorgeous waterfalls nearby but the Jungfernsprung in Heiligenblut is the most beautiful one, don't miss it.