Grawafall
(Grabafall, Grawa wasserfall)
Grawafall also called Grabafall or Grawa wasserfall, is a big waterfall at the end of the Stubaital near Mutterberg in the region Tirol, Austria.
From Innsbruck drive south to the Brennerpass on road A13. Take the exit to the Stubaital (you have to pay toll (euro 3) when entering the Stubaital). When arriving at the end of the valley it can get crowded when coming close to the powerful Grawafall.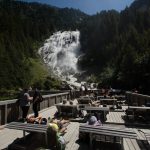 The Grawafall is already visible from the roadside, just before the road ends at the Mutterbergklamm. In July a load of melted snow feeds the river Sulzaubach and drops down over 120 meter.
From the roadside and restaurant you already have a great view but if you walk around the restaurant you see a sign for the Grawafall. Within 5 minutes you arrive at a viewing platform. Here you can relax on a nice wooden sunbed, in front of the Grawafall with the greatest view you can wish.
The area of the Stubaier tal is very suitable for long hikes or just to visit all the waterfalls in the valley. Afterwards you can take a drink in the restaurant at the roadside with (again) the best view men can have!
Grawafall is a mighty waterfall to see and gets more powerful at the end of the afternoon. It is not only the power and the height that is impressive but the Grawafall is also appr 85 meter wide. This makes the Grawafall probably the widest waterfall in Austria.
Since 1979 the area of the Grawafall and the Sulzaubach is a protected nature reserve. The Grawafall is being fed by melted water from two small lakes "Blaue Lacke and Grunausee" and the Stubaier glaciers.
Best season to visit the Grawafall is from early summer until august when the temperatures rises and the flow of the glacier river Sulzaubach is at its top. In July the Grawafall is a really powerful waterfall.
Best daytime to visit the Grawafall is in the afternoon: when taking pictures you will photograph towards the northeast and later in the afternoon the volume of the Grawafall is a little bit increased.
I visited the Grawafall twice: the first 1o pictures are from my stay in August 2015, after a long period of warm weather. Picture 9 and 10 was 30 minutes later. There was a sudden increase of the flood and the color of the water turned into brown.
The last picture of the Grawafall was taken years ago at the beginning of May, but that is much to early to visit this great waterfall.
Other great waterfalls nearby are the Mutterbergklamm wasserfall and a few kilometer back the Mischbachfall at Volderau is also a nice waterfall to visit.