Huldefossen
(Huldrefossen)
Huldefossen or Huldrefossen is the biggest waterfall in the Førde and Gaular area. Huldefossen is located behind the Jolster school in Mo, Sogn og Fjordane, Norway.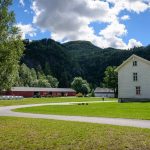 From Førde it is a 10 kilometer drive to Mo over road 5/E39 towards Skei. There is a sign (in Mo) pointing to Huldefossen. Park the car at the big parking lot of the school. From here it is difficult to determine where to walk to. There is a sign but can be interpreted many ways. Behind the school you see a red and white shed. You have to walk in between them. After a hundred meter you will reach the bridge over the river Hulda. Here you already see the power and beauty of Huldefossen.
Huldefossen is situated in a beautiful sight set in an unspoiled cultural landscape. I visited Huldefossen twice. First time (years ago) it rained and the waterfall had a tremendous power which can be very impressive when water plunges down over 80 meter. With the cows in the foreground a perfect picture shows up.
Second time was July 2017 and the weather was good, sun was shining and temperature was around 16C. I hoped for a rainbow but Huldefossen was only partial covered in sunlight, I was there at 2 p.m. Still the waterfall was very impressive and powerful.
From the bridge you can walk over the meadow towards Huldefossen. There are many viewpoint for good pictures. I always try to photograph an object or person in the foreground. Near the base of Huldefossen pictures get a little bit misty because of the many water drops.
I returned back to the bridge and followed a path along the river for 400 meter (sign says Bruhaugen). Here you have a tremendous view from tho other side of the Hulda river.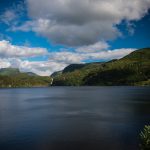 Huldefossen is 80 meter high and falls down in two steps. I always thought it was higher, but I measured it with my Nikon laser height meter. Huldefossen is located between two medium big lakes, Movatnet and Asvatnet. All the rain water, melted snow from the mountains goes via the two lakes feeding an always powerful Huldefossen. Driving along the lake you also see Huldefossen from a distance.
Førde and the surrounding of the Gaular river is called "waterfall country". The waterfall road is the stretch from Gaularfjell mountains and Haukedalen along the watercourse down through Viksdalen to Sande and Bygstad. There is also a waterfall walk along the river Gaular. The waterfall walk goes from the Gaular mountains down to Viksdalen. Along its route there are 14 waterfalls and 7 lakes. It is a relatively easy hike with a height difference of approx. 500m and a total length of 21 km. The hike goes from Gaularfjell to Viksdalen via Eldal, Likholefossen, Longstølen and Torsnesstølen.
Many of the waterfalls are situated near or next to the road and you are able to drive right up to 29 of these waterfalls. Not all of these 29 waterfalls are very spectacular but the biggest waterfall is without a doubt Huldefossen.
On my way to Forde I passed two other nice waterfalls, Likholefossen and Vallestadfossen. Not very high but wide and powerful. Other waterfalls worthwhile to visit are the Eikjelandsfoss  and Halbrendsfoss.