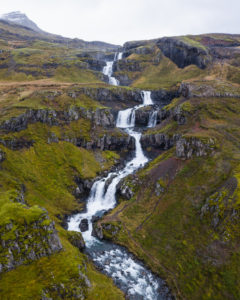 The Klifbrekkufossar waterfalls are situated in the bottom of the fjord, Mjóifjörður in the East of Iceland not far from Egilsstaðir. The waterfalls are in the river Fjarðará and cascade down in 7 tiers in a stair-step pattern amidst green grassy slopes sheltered by murky cliff walls. A great place for photographing!
Klifbrekkufoss is located at the right side of the road when driving East on road 953 towards Mjóifjörður.
With a height over 90 meters Klifbrekkufossar is among the higher waterfalls in Iceland. The river Fjarðará is fed by the melting water from a mountain plateau with heights up to 1144 meters.
There is also a river Fjarðará at Seyðisfjörður, not far from the Kliffbrekkufossar. Here the powerful river Fjarðará is famous because its many rapids and waterfalls (Gufufoss, Uðafoss and Mulafoss), quit suitable for wild water canoes.