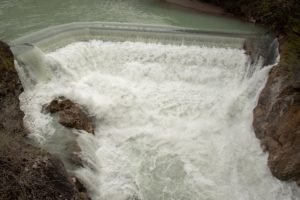 The Lechfall is powerful waterfall along road 17 between Füssen (Germany) and Reutte (Austria).
It is almost impossible to miss the Lechfall. The small waterfall (3 meter) is clearly visible form the roadside and is despite its height, very powerful.
There is a parking along the road, near the bridge over the river Lech from where you have a good view on the Lechfall. A little further the view is maybe even better.
A nice waterfall but not very spectacular.