Ljosurfossen
(Ljøsurfossen, Ljosurdfossen)
Ljosurfossen is one of the many waterfalls in the Geirangerfjorden situated in the region More og Romsdal, Norway.
Ljosurfossen (also written as Ljøsurfossen) is the last major waterfall in the Geirangerfjorden at the south shore of the fjord, opposite of the Bridal Veil (Brudesløret).
Ljosurfossen is about 240 meter high and is being fed with melted snow ending in the river Ljosura, not far from the ancient farm Blomberg.
I have seen pictures of Ljosurfossen where it has a quit respectable volume. I visited Ljosurfossen four times but Ljosurfossen was always a low volume waterfall. Best season to visit the Geirangerfjorden with all its waterfalls is late springtime or early summer when a lot of snow melts down from the mountain range Geitfjellet (1.615m). With a little luck you also can see the the snow on the tops of the mountains, even early July.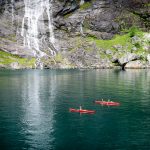 Geiranger is a perfect base for day trips, hikes or boat trips. I can recommend the ferry Geiranger-Hellesylt. It wasn't cheap but again (fourth time) I enjoyed the boat trip. It can be cold because of the wind, so take a jacket with you. If you are with more then two people you also can rent a boat at Grande camping in Geiranger. In two hour time you can make your own trip and it really fun, certainly with children.
A lot of people take their fishing rod with them when renting a boat. It is allowed to fish freely on sea (fjord) and there is a lot of fish in the fjord. Nice for the bbq! I am not really fund of fishing so I bought Salmon in the supermarket (quit cheap in Norway).
It always nice to know which waterfalls there are in the Geirangerfjorden. From Geiranger the first waterfall you see at the right side (after the camping site) is Gjerdefossen.
A little bit further at the right side you will see Bringefossen. Here you already can see Dei Sju Systrene (Seven Sisters waterfall). Look at the right side of the top of the waterfalls. Here you can see the Knivsfla farm(s). On the other side of the Fjord you can see Friaren waterfall (also called Skågeflafossen).
After Dei Sju Systrene you will see  Brudesløret (Bridal veil) and on the opposite side of the Geirangefjorden, Ljosurfossen. There are still many named and unnamed waterfall in the Geirangerfjorden but these are the significant ones.
Off cause at Hellesylt you will see the Hellesyltfossen. After the ferry arrives in Hellesylt you still have 10 minutes to visit the waterfall.
Other things to do in and around Geiranger: