Mühlbach wasserfall (Hallstatt)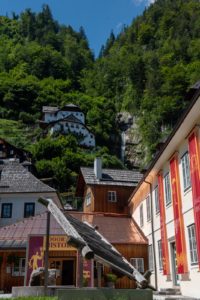 The Mühlbach wasserfall is a series of waterfalls in Hallstatt in the region Oberösterreich, Austria.
When walking in Hallstatt or when taking a boat tour on the Hallstatter see you can't miss this nice waterfall in the river Mühlbach which I named the Mühlbach wasserfall. I couldn't find an official name but the Mühlbach wasserfall seems quite logical to me.
When I was in Halstatt August 2020 I decided to check out the waterfall. I took the path up at the left side of the Mühlbach wasserfall, up to the Salzberg. Start at the Müllerstieg from Hallstatt. The road starts steep with some stairs to the main road and then a path zigzags further up.
You can hear the river Mühlbach thundering down from the Salzberg and after 8-10 minutes you have the first view on several small drops of the Mühlbach wasserfall.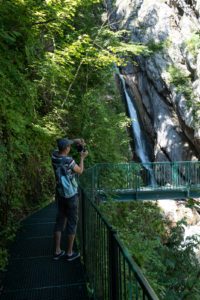 Take the path further up for 7-10 minutes until you reach a platform with a view on the second highest drop of the Mühlbach wasserfall, approximately 20 meter. A very nice view on a beautiful single drop waterfall.
After taking my time I went down but I had the feeling that there must be a taller single drop. From the boat on the Hallstatter see it looked quite big. At the end (when I almost was back in the city centre of Hallstatt) I took the stairs up to a parking. And there it was, the taller part of the Mühlbach wasserfall. Not as beautiful at the waterfall further up because this drop was situated at a parking in front of the main road, not really a perfect spot to admire a waterfall. Nevertheless, here the river Mühlbach drops down over two stages, in approximately 35 meter.
A few kilometers in the direction of Obertraun you can go into the Echerntal, a paradise for waterfall lovers. Within a short distance you can enjoy six very powerful waterfalls with a tallest height of the Schleierfall of 140 meter. The other waterfalls are located further into the valley: Waldbachstrub wasserfall, the Lauterbach wasserfall, the Klausalm wasserfall, the Dürrenbach wasserfall and the upper Waldbach wasserfall.