Cascata del Salto
(Salto Maggia, Cascata Pozzaccio, Salto)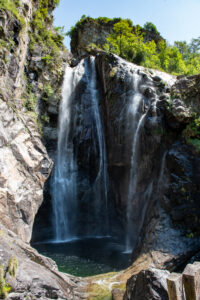 Salto or Cascata del Salto is a gorgeous waterfall in Maggia, Ticino, Switzerland.
It is not difficult to find Cascata del Salto when you are in Maggia. This great waterfall is already visible from the main road at Maggia.
Parking near the waterfall is a little difficult. I visited the waterfall twice July 2021. The first time I parked my car along the road near the bridge over the river (gps 46.247671, 8.702666). From here you can walk to the base of the waterfall at the left side of the river. There are small signs.
First you walk on a paved street (la Valegia) and the last part is a small path. The walk only took me 6 minutes.
The waterfall is popular with locals because there is a perfect pond in front of the waterfall where you can swimm. The big rocks are perfect to bathe and to enjoy all the happy people and off cause this magnificent waterfall "Cascata del Salto".
The water of the river Riale Salto plunges down over 60 meter. Because the waterfall is quite wide it is gorgeous to see. Don't expect a very wilde powerful waterfall but cascata del Salto is more a waterfall where you can relax.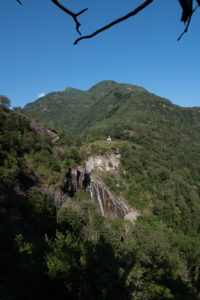 The second way to enjoy Cascata del Salto is a roundtrip over the top of the waterfall where you have beautiful views on the valley and finally on the waterfall. I started my hike from hotel Locando Poncini, a nice and friendly hotel where I stayed. Through the small streets of Maggia I walked towards the Vineyard at the hills near the waterfall. Here there are stairs (gps 46.249124, 8.708327) that are going steep up to the chapel not far from the top of Cascata del Salto. Although I don't mind gettin tired you have to ascend over a hundred meters in a short time. After 20 minutes I arrived at a bench near the chapel. Time for a short rest and to enjoy the views. Still I couldn't see the waterfall… You really have to cross the bridge and to descend a little before you see Cascata del Salto from above. Be careful, if you slip you will fall down over a hundred meters!!! From the chapel to the first good view on the waterfall is appr. 10 minutes.
From here you have to descend to the main road and walk back to Maggia again. Total roundtrip time is appr. 60 minutes.
I think Valle di Maggia is my favorite valley in Switzerland. I love the weather, I love the many waterfalls and I love the architecture. There are so many spot to swim at waterfalls, but Cascata delle Sponde I liked most.
The most famous and touristic waterfall is Cascata di Foroglio, a must to visit!