Seerenbachfälle
(Rinquellenfall, Rinquelle)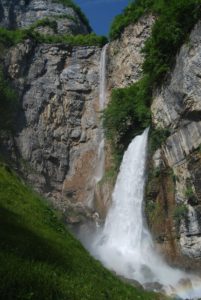 The Seerenbachfälle (or Rinquellenfall) is one of the highest waterfall in Switzerland, located at the north side of the Walensee in the region Sankt Gallen. Last time the height was measured in 2006 which makes the Seerenbachfälle the highest waterfall in Switzerland.
From road 3 take the exit to Weesen. There are boats, from Weesen, leaving to Betlis where you can walk to the base of the Seerenbachfälle in 15 minutes. Best view you will have from the chapel in Betlis.
It is also possible to drive to Betlis on certain times. It is a one way street but it is allowed to drive along the north shore of the Walensee every whole hour and half hour. You have to pay to park your car in Betlis. A walk from Weesen takes over 60 minutes.
The Seerenbachfälle drops down over three stages (585 meter) and the second stage has a singel drop of 305 meter! At the lower part of the waterfall there is also a natural karstic spring called Rinquelle. At its top 30.000 l/sec drops down over 40 meter.
There are several other beautiful waterfalls in the Walensee area like the Murgbachfall.
Picture: CC Some rights reserved / Vasile Cotovanu