Strupenfossen is an unofficial named waterfall in the Sanddalen near Myklebust (Byrkjelo) in the region Sog og Fjordane, Norway.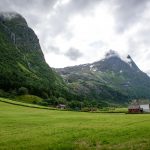 In Byrkjelo you have to take road Rv60 (sign Fjellvegen) to Utvik, going to the north. After 900 meter there is a right turn to road Rv 693,  Myklebust. Drive on along lake Sanddalsvatnet until you reach a small hamlet Myklebust. At the left side of the valley you see a small stream (Strupen) cascading down.
First time I was at Strupenfossen it was more impressive then the second time July 2017. First time water was coming down almost everywhere. The weather was bad and it was in June. The course of the river Strupen seems to be unpredictable, but jumps down over several tiers in (sometimes) multiple streams. That is the reason why Strupenfossen is considered to be a waterfall.
Strupenfossen (means throat) and isn't that high as first thought. I think appr. 500 meter. Strupenfossen is fed by a lake and a glacier called Myklebustbreen, on an altitude of 1739 meters. One of the streams that is part op the river Strupen is fed by Hogegrovvatnet (lake).
A little bit back in the valley you will find a great waterfall called Sanddalsfossen which is easy to reach after a short walk.
For more big waterfalls you have to go to the neighbor valley where also many waterfalls are fed by the glacier Myklebust breen.
By far Volefossen is the most beautiful and most impressive waterfall in the Oldedalen. Already from a far distance you can see Volefossen almost in front of the Briksdal glacier. Most of the time it is very crowded (at the viewpoints) with busloads of people coming of a cruise ship. At the end of the valley you can make a short walk to the scenic Kleivafossen and the glacier.