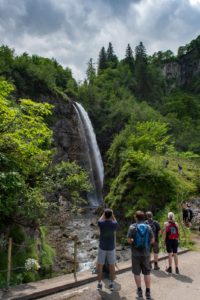 The Stuibenfall is a nice waterfall in the Oytal, near Oberstdorf, in the region Bayern, Germany.
The Stuibenfall can be reached by foot starting from Oberstdorf (Bayern). I prefer renting a bike when going to the waterfall. The Stuibenfall can be reached, by bike, within 1 hour (10 kilometer), ascending over 450 meter. Some parts of the road at the end are very steep, even with an electric bike.
In Springtime the volume of the river Stuibenbach increases and at that moment the waterfall is on its best. I visited the Stuibenfall July 2020 and it was a nice waterfall but not so powerful as I expected. Nevertheless a nice waterfall worthwhile visiting when you are near Oberstdorf.
The Stuibenfall plunges down over a height of 32-35 meters with a bridge almost in front of the waterfall.
In the valley next to the Oytal there are two other waterfalls from which the Hölltobel is really gorgeous, very powerful and a must to see. You have to bike back to Oberstdorf and at the river go left to Gasthaus Gerstruben. When renting an electric bike you can combine a visit to both valleys.
We rented our bikes at Rebike in the centre of Oberstdorf. Good bikes but their system of renting is not the most efficient one….