Tannforsen (officially written as Tännforsen) is one of the most beautiful waterfalls in Sweden and is located near Duved (Åre) in the region Jämtland, Sweden.
The waterfall Tännforsen is located near road E14 from Östersund to Trondheim (Norway). West of Duved you have to take the exit to Tännforsen (road 322). You can't miss the big signs for Tännforsen (8 kilometer). A newly asphalted road 322 leads almost directly to the waterfall, but you have to take one turn right that leads to a big parking at a cafe and tourist shop. You have to pay for the parking.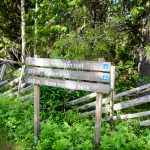 From the parking several path lead to Tännforsen. In a few minutes you reach the waterfall (300 meter). You can begin at the top or the bottom. I didn't knew what to do do my path lead to the bottom and I walked up along the waterfall. I was visiting Tännforsen late in the afternoon some day July 2017 and the weather was good. I enjoyed the power of the waterfall very much.
Tännforsen is the biggest waterfall of Sweden, regarding the volume. In springtime the volume of the river Åreälven can increase to an enormous volume of 740 m3/sec (measured in 1995). I think the average flow is 455m3/sec, still a huge amount of water. Although this in not the most powerful waterfall in Europe, the waterfall isn't very wide. A huge amount of water has to find its way down creating an enormous explosion of water.
Tännforsen is one of Sweden largest waterfalls. The total drop is 38 meter of which 32 meter is a single drop. The width of the waterfall is appr. 60 meter.
In wintertime the waterfall can freeze and will create a extraordinary sculpture of ice. Also nice to see. Best time to visit the Tännforsen is from spring to early summer, although the river Åreälven flows al year around with great power.
The area around Tännforsen is very unique and is therefor classified as both a nature reserve and Natura 2000. Natura 2000 is a european network of particularly valuable areas of nature.
In wintertime the area around Åre and Duved are popular skiing destinations. The ski resort Åre was already founded in 1909.
There are several big waterfall along road E14 between Undersåker and the Norwegian border you can visit. My favorite are Ristafallet and Handolsforsen.