Summer 2011:
"Iceland in a nutshell"
Iceland is after Norway fare out the best country in Europe when you want to chase waterfalls. In the summer of 2011 my daughter was 13, a good age to start and remember unforgettable journeys. So we decide to book a roundtrip holiday on Iceland. This was the first holiday with the three of us, not at the mainland of Europe. In recent years I had become addicted to waterfalls, so our Itinerary of 11 days brought us along many waterfalls. Most of the beautiful waterfalls in Iceland are easy to reach of you take the ring road 1.
Day 1 - Reykjavik (Iceland)
We had a good flight from Amsterdam to Reykjavik and the afternoon we explored the city Centre of the capital of Iceland. Our hotel was very close to the Hallgrimskirkja, an extraordinary church with distinctively curved spire and side wings. A very photogenic architected wonder. I loved it! After visiting the Hallgrimskirkja we walked to the main center, a very cozy area with a lot of small shops. At the harbor you must visit the Harpa Concert hall, again a very photogenic building. There are other hotspots in Reykjavik you can visit (Perlan museum) but we had limited time.
Day 2 – Golden Circle
The day starts early because we want to drive the Golden circle route with many highlight of our holiday. After an one hour drive we parked our car at the Thingvellir national park. The park has a great history and is of importance for the Icelandic people. It is also a beautiful geological area with a nice waterfall, Öxaráfoss. Although it isn't a very tall waterfall, the shape and surrounding has something magical. A good start of our roundtrip in Iceland.
The next stop is Strokkur, a 23 meter high geyser that is still active. The biggest geyser, called Geysir, isn't active anymore. To be correct, only once in a few years, but Strokkur is also very beautiful to see. We spend quite a lot of time to get the perfect picture, but we had to go on to our next stop.
The highlight of the Golden Circle is definitely Gulfoss, an extremely powerful waterfall that drops down over 32 meters. I already had seen many waterfalls, but this was the ultimate experience regarding the power of a waterfall. From the parking (it can get very busy) you already have a great view on the 20-40 meter wide Gulfoss. Take the path down to the top of Gulfoss to realy experience the power of water and to make great pictures. Unfortunately, the weather wasn't fine but still Gulfoss was one of the highlights of our Holiday.
IIt was getting late, and we moved to our hotel in Laugarvatn.
Visited Waterfalls
Day 3 Laugarvatn> Kirkjubaejarklaustur
Our next stop was Kirkjubaejarklaustur, a long drive in bad weather. Nevertheless, we visited some of the best waterfalls in Iceland on our way. We first took a small detour to the gorgeous Hjalparfoss, a vulcanic waterfall with many flowers on the shore of the pool, in front of the waterfall. Hjalparfoss is easy to reach, and it is a very special shaped waterfall. We wanted to go further and after 1h30 we reached the famous and beautiful Seljalandsfoss. There is a paid parking in front of the waterfall and from here you also can walk to the neighbor waterfall Gljufrabui. The Seljalandsfoss is an impressive waterfall in a gorgeous surrounding. You can also walk behind the waterfall, always very special. Don't forget to walk to the other waterfall, a little further Gljufrabui.
If you think, this was it…no, the absolute highlight and a top 3 waterfall in Iceland is yet to come, Skogafoss. There is a big parking closet to the base of the waterfall and the walk along the river is phenomenal. You can walk up along the Skogafoss where you have awesome views. Afterwards you visit the Skogafasn museum (very nice) and a neighbor waterfall (we missed this one). Of cause not everything we visited where waterfalls, we also went to the beach to see Dyrhólaey, a gorgeous rock formation on a black beach.
I can remember that the last part of the drive was quite boring, and wet, but lucky for us we were just on time. A few days later a volcano was getting active under a glacier, causing a mud flood which washed away part of ring road 1!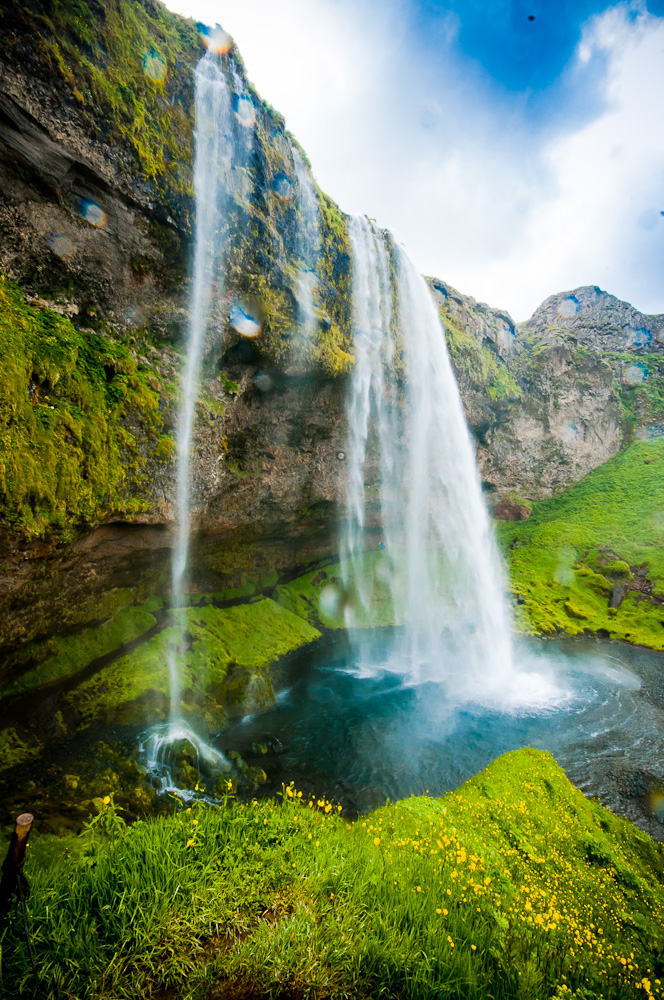 Day 4 – Kirkjubaejarklaustur > Höfn
At day 4 we are heading towards Skaftafell national park. The drive on ring road 1 is already "a lust for life". On our way to Skaftafell you pass several waterfalls, all of them, very beautiful: Stjornarfoss, Systrafoss and foss a Sidu. We also visited one of the most beautiful gorges of Iceland (a must to go to), Fjardrargljufur. The gorge is covered with moss and a river is streaming through the gorge.
Finally, we arrived at the huge parking of Skaftafell national park. A beautiful walk takes you along several waterfalls and ends at the famous Svartifoss. The sun was shining at the end and we enjoyed our lunch at the bottom of Svartifoss. The last part of the day we went on a boat ride on an glacial/ice lake Jökulsárlón, quite an experience. Exhausted we drove to our hotel Höfn and looked back on a wonderful day. .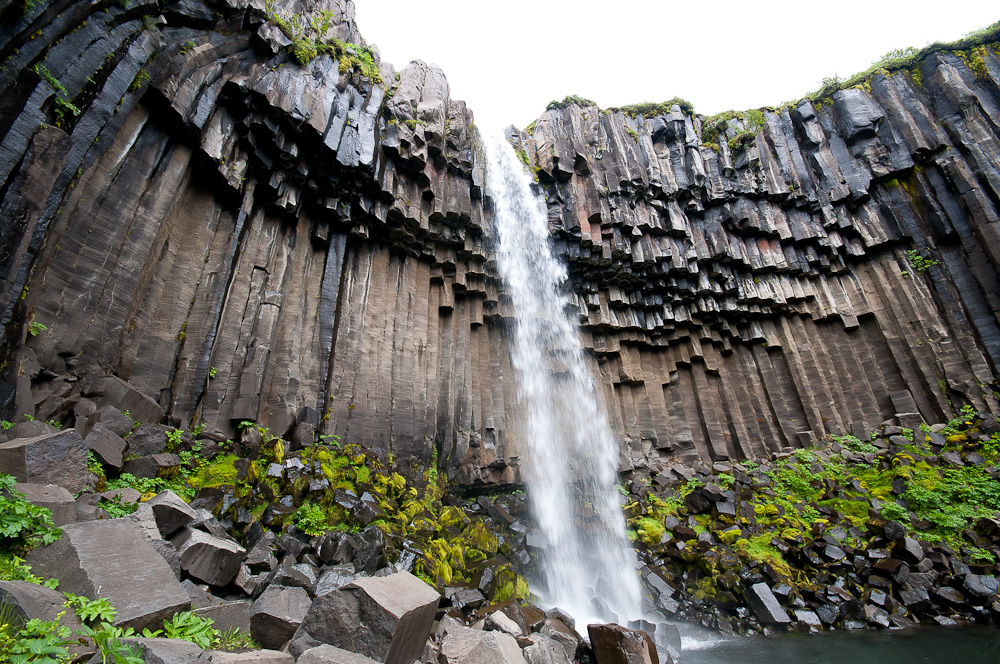 Day 5 – Höfn > Hallormsstadur
I didn't know what to expect from east and north Iceland. I did some research before going and I found a few waterfalls I wanted to visit and the highland road to Seydisfjordur seemed extremely beautiful to me. The weather was getting better and after leaving Höfn the landscape changed somehow in a very quiet, comforting, impressing surrounding with beautiful views. Back then the asphalt road became a gravel road with many lupine flower fields. There was still a lot of snow on the mountains, even along the roadside, and sheeps where walking on the road. Something we never had experienced in our tiny country (the Netherlands). My daughter loved the sheep's and horses who were also walking freely around.
After 3 hours we arrived in Egilsstaðir with a gorgeous waterfall, Fardagafoss. It is located along the road to Seydisfjordur and is easy to reach. We had some time left and we decided to take the highland road to Seydisfjordur. A beautiful road with icefields, frozen lakes and a lot of snow. The views are great and there are several other waterfalls along the road: Gljúfurfoss, Múlafoss, Gufufoss and several small (but beautiful) unnamed rapids and waterfalls. You have to know where to search, so we missed a couple of them. Seydisfjordur is a small town with gorgeous buildings, a nice church and again an unnamed waterfall coming down the mountains. .
It was time to go to our hotel in Hallormsstadur. We were lucky that we where placed in the main building with a great buffet for dinner. It was the birthday of my wife (July 7th) and this was the perfect ending of a great day.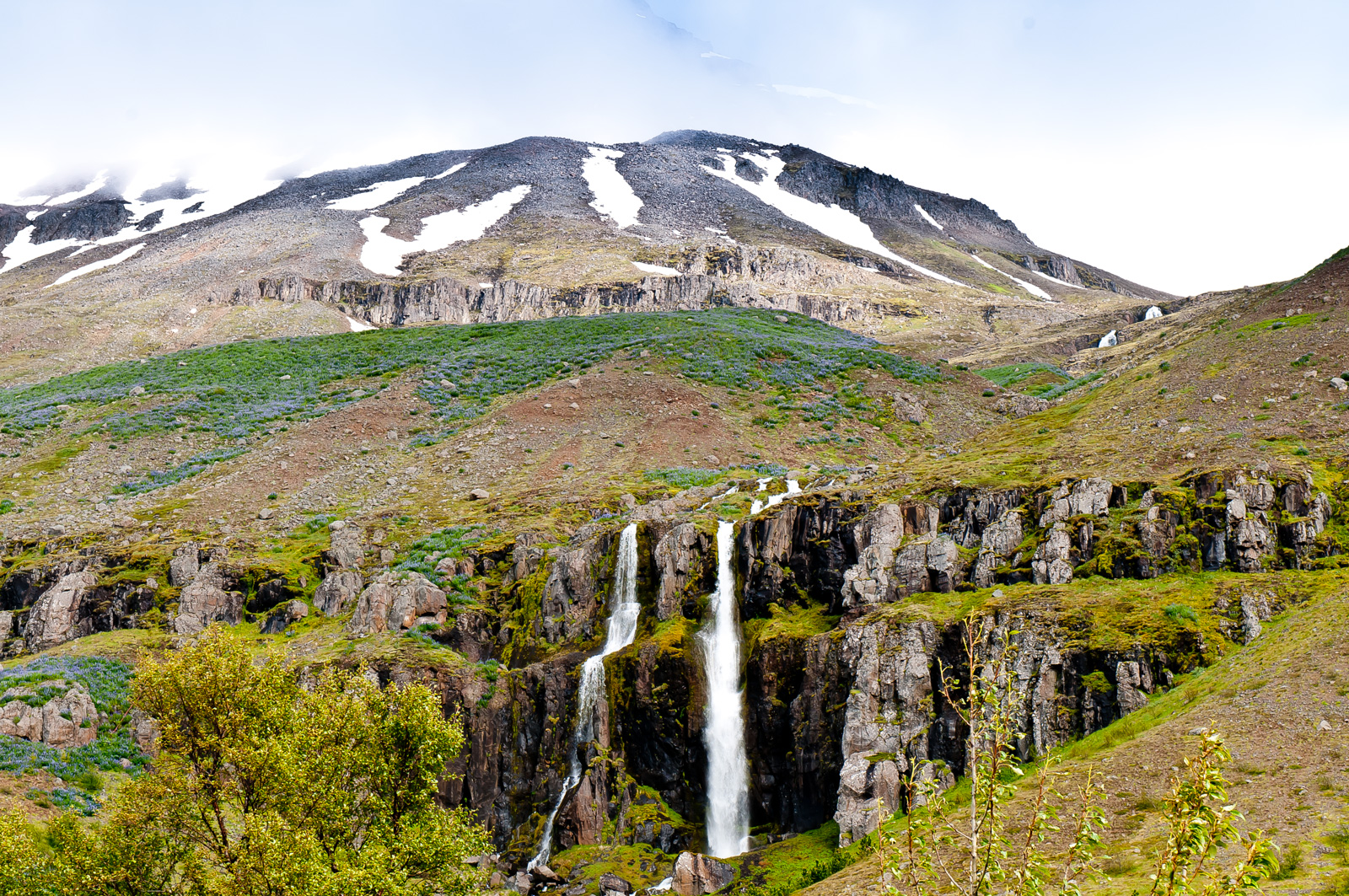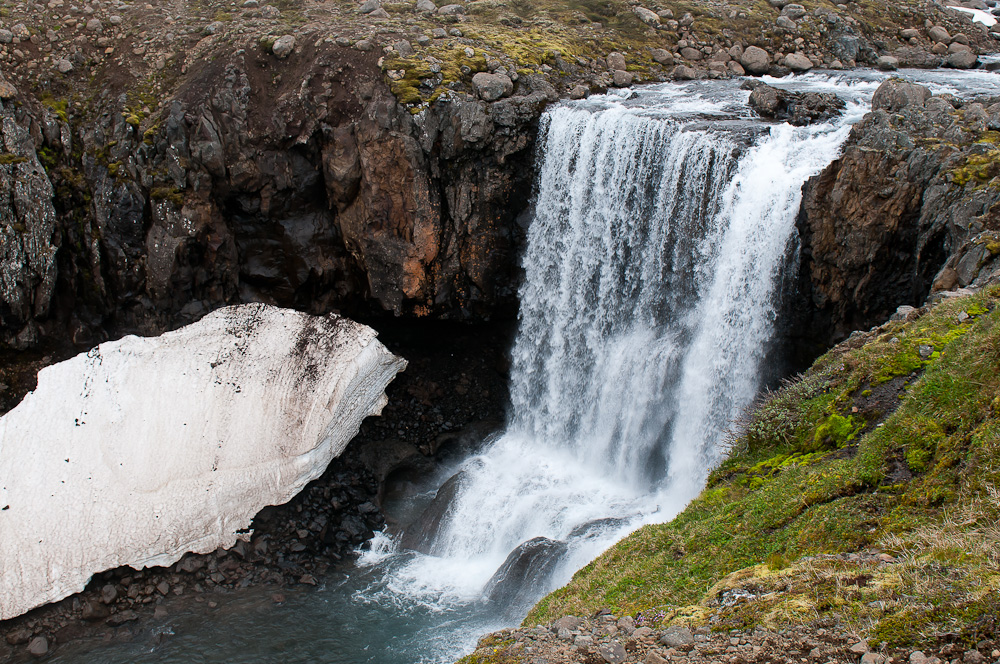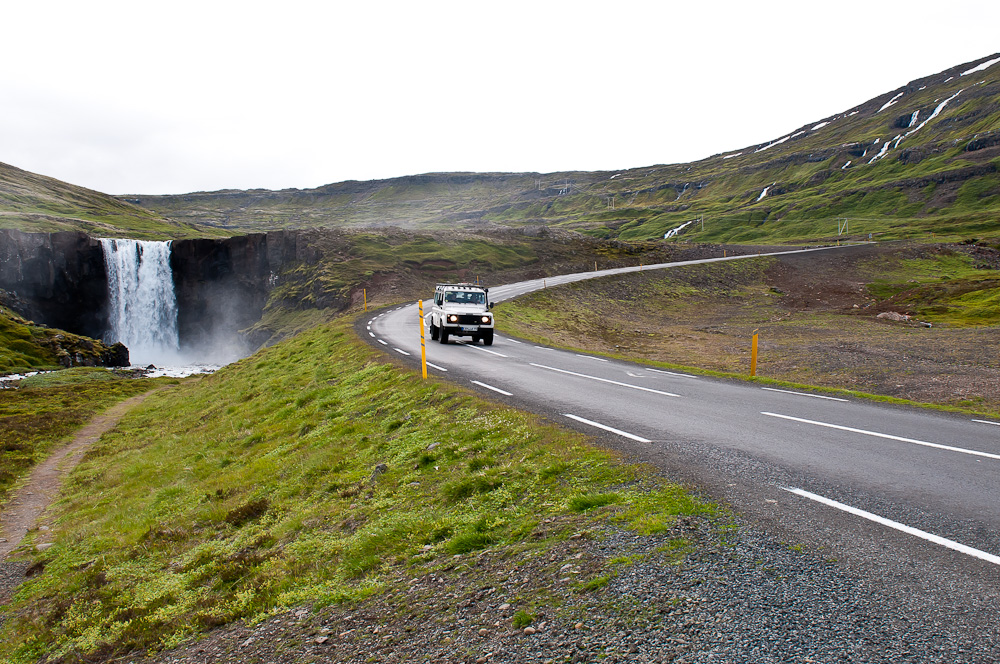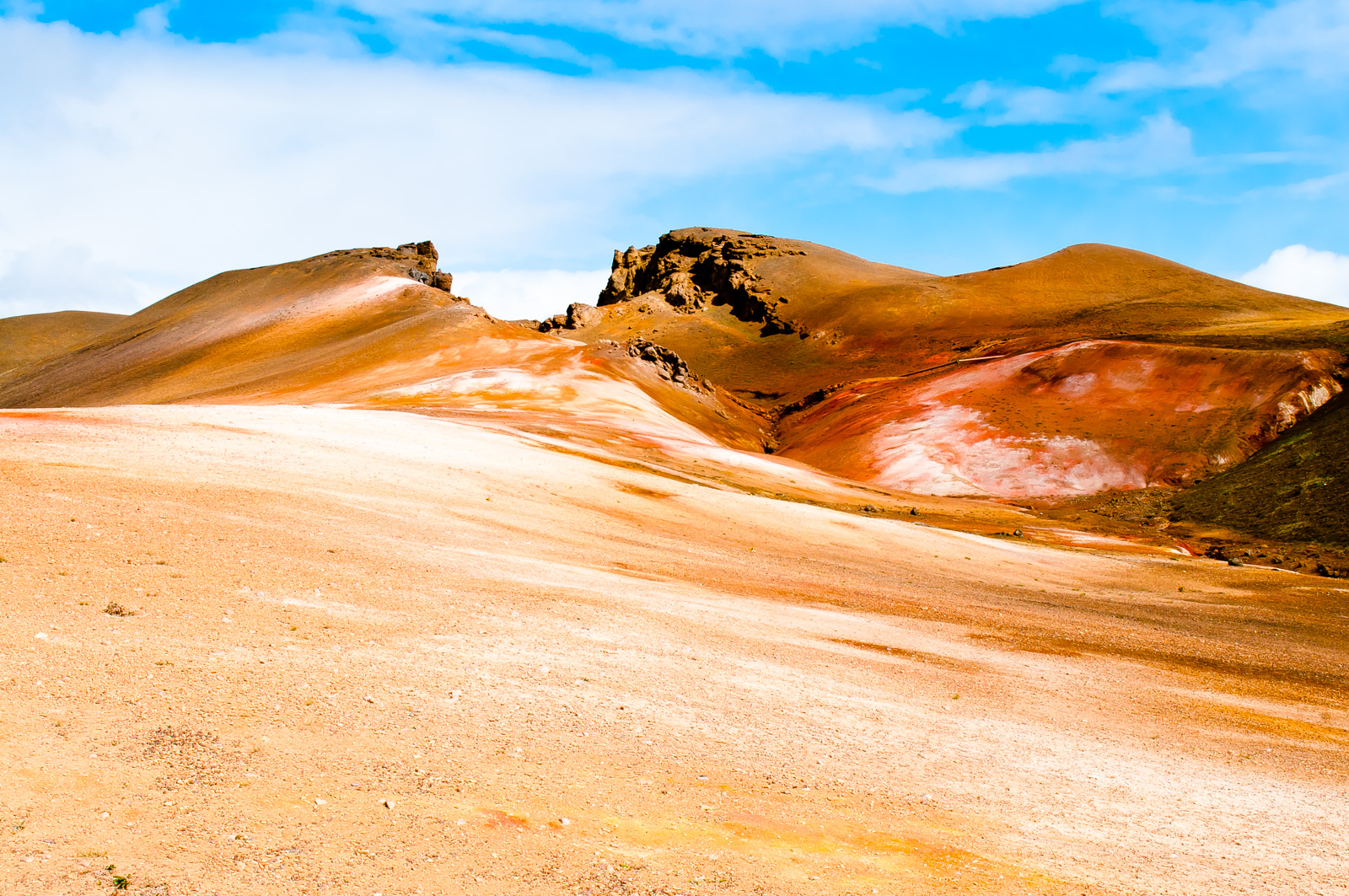 Day 6&7 – Hallormsstadur > Myvatn
These days where the days I shot the most of my pictures because we planned to go to very photogenic hotspots:
1. Litlanesfoss and Hengifoss with amazing basalt rock formations (nice walk)
2. Dettifoss and Hafragilsfoss in the most powerful glacier river of Iceland Jökulsá á Fjöllum
3. Hverir and Námaskarð, a geothermal area with the most amazing colors (and it smells..) .
The walk to Litlanesfoss and Hengifoss was maybe not very special, it was cloudy, and we couldn't see Hengifoss most of the time, but both waterfalls were great to see. The basalt rocks at Litlanesfoss are very special and I think unique. There are more basalt rock formations at waterfalls, but these were very distinctive.
The walk goes quite steep up (at some parts) but it isn't a very difficult walk. After approximately 1 km you will see Litlanesfoss and after another 1,5 kilometer you will be at the base of the 128 meter high Hengifoss, a massive waterfall. There is a colorful rock face surrounding the waterfall showing different layers from volcanic eruptions in the Tertiary period when Iceland was formed. Luckily for us we sometimes could see part of the waterfall but most of the time it was in the clouds. Total time of a roundtrip walk took us two hours.
The second and absolute highlight for us was a visit to the most powerful waterfall in Europe (at least a top 5 most powerful waterfall), Dettifoss. We approached Dettifoss from the east side where you will have the best views. From the main road a dust road runs to a big parking, right next to the waterfall. A short walk brings you to a viewpoint on the 44 meter high and 100 meter wide Dettifoss. Dettifoss is situated on the Jökulsá á Fjöllum river, which flows from the Vatnajökull glacier and collects water from a large area in Northeast Iceland.
A little further downstream there are a few other waterfalls from which Hafragilsfoss is also a must to visit.
Probably it isn't a surprise I love waterfalls but after visiting Hverir and Námaskarð, I also love the colors and formations of geothermal areas. Although the weather, most of the time, was cloudy I shot so many gorgeous pictures. I really want to go back, one day, with a photo model (one of my many other hobby's, model shooting). I don't know exactly anymore where I took all my pictures but the surrounding of Námaskarð and Krafla is so photogenic. Just explore and enjoy the things you discover. That is what we did.
After two days our journey went on west to Akureyri.


Day 8 – Myvatn > Akureyri
It is only a short drive to Akureyri and we took our time to go to the magical Goddafoss and to drive to Husavik to see….. whales. We were so lucky. We booked a boat trip (on sea it is very cold, wear a protective suit) on the Faldur with twenty other people. You never be sure if you see whales but were glad, we saw puffins. After a few hours we resigned ourselves to the fact that we would not see any more whales when we suddenly received a signal that they had seen whales. And yes, we got to see two beautiful humpback whales, such a special experience. This was a moment never to forget. The whale right looked at me! This was a day to never forget, and we went on to our hotel in Akureyri.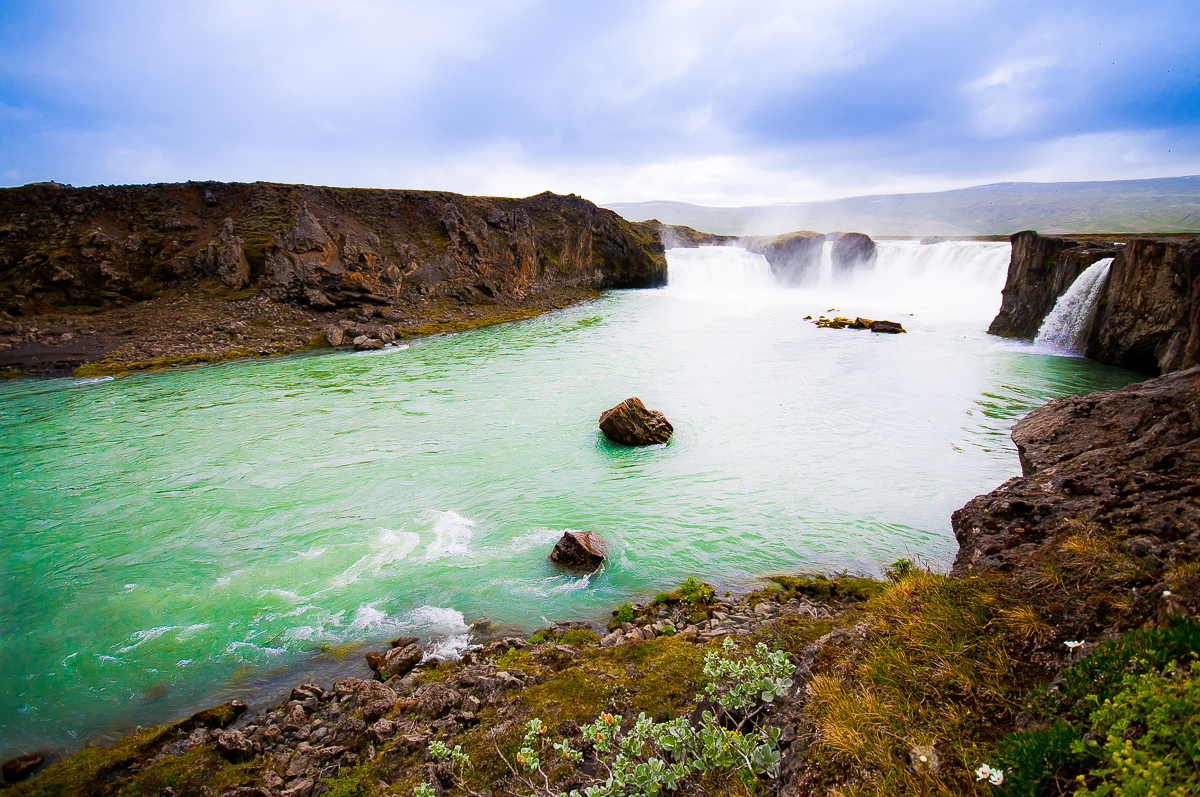 Day 9 – Akureyri > Bogarnes
It is a sad day, only two days left in Iceland, and everything is so beautiful, and the weather is getting better and better. Today the sun is shining, and we are walking in T-shirts, although it is only 16-17C. Today our journey brings us to the west of Iceland. We must skip the Westfjords and Snæfellsnes. A pity because these are both gorgeous areas with great and photogenic waterfalls. Luckily for us there is time to visit a peculiar waterfall called Hraunfossar. The colors are almost unnatural, and water is coming out of the rocks: At the shores of the river Hvita there is a lava field with solid rock under it. A little further there is another nice waterfall you can visit Barnafoss. The rest of the day we enjoy our car trip, rivers, Icelandic houses and of cause the beautiful weather.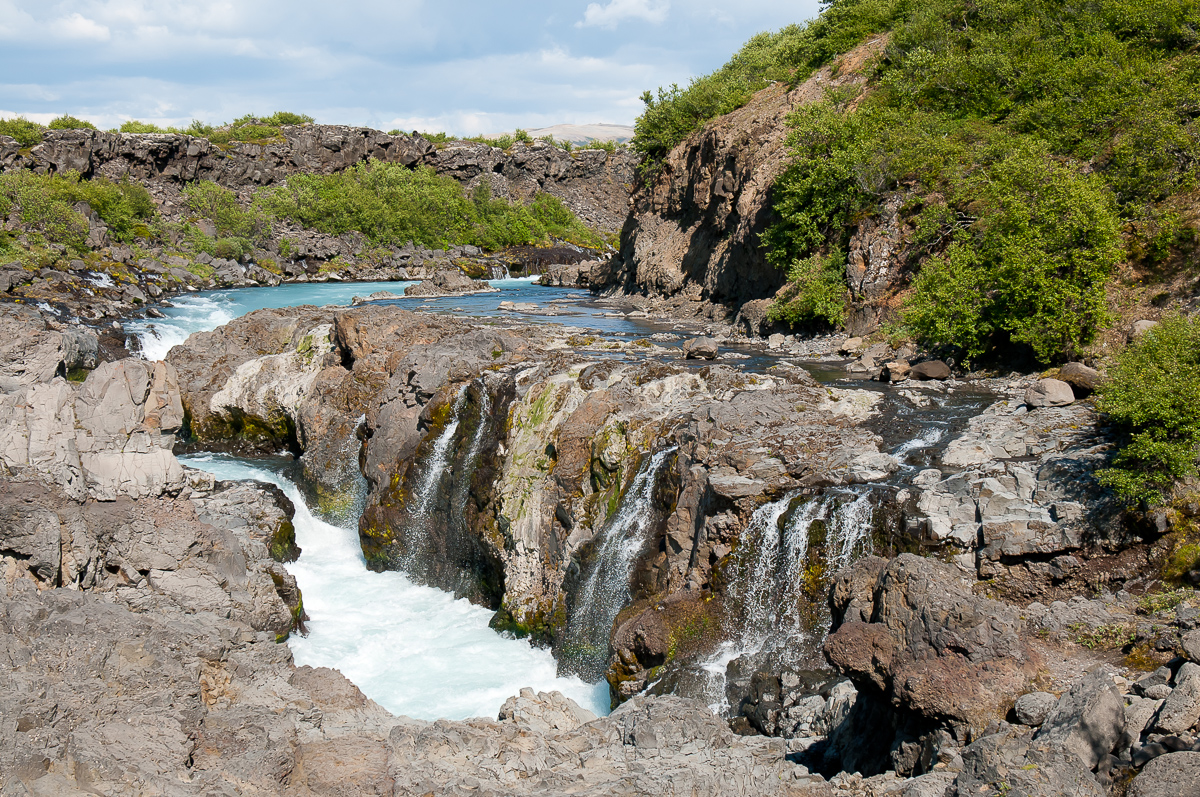 Day 10/11 – Bogarnes > Reykjavik
The last day brings us back to Reykjavik and the home. But first we want to visit the famous Blue Lagoon. This is a very touristic hotspot, a geothermal spa for all ages. The water is a byproduct from the nearby power plant, very sustainable! It also an experience you must do. The entrance isn't very cheap, but everything in Iceland is expensive. The evening is for shopping in Reykjavik city center and next day we have to go home…. Iceland is certainly a destination where I want to go back to.