Breimegafossen
(Breimegåfossen, Brudesløret)
Breimegafossen used to be one of Norway's most impressive waterfalls and is located at Finnset (Eikesdalen) in the region More of Romsdal.
I have been two times to the Eikesdalen both both times there was no water in the Breimegafossen. I can't find much information about Breimegafossen but I did find some old pictures where the river Breimegå is a really huge and powerful waterfall thundering down over 440 meter.
Unfortunately Breimegafossen is a regulated waterfall and most of the time water of the river Breimegå is diverted for a hydroelectric system.
Eikesdalen is not far away from Åndalsnes but it still takes a two hour drive on road 660/Fv191. First thing you will notice is the Eikesdalsvatnet, a big lake, which is fed by numerous rivers. You have to wait until you are halfway the lake before seeing the biggest waterfall in the Eikesdalen, Mardalsfossen.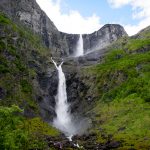 Eikesdalen is a valley with many big waterfalls and is a visit worthwhile. There is a nice campingsite in Eikesdal, a perfect base to explore the area. The most famous and most beautiful waterfall (in Norway?) is Mardalsfossen with a single drop of 297 meter and a total height of 705 meter. It also a main tourist attraction and really worthwhile to visit.
Other nice waterfalls, further into the valley: Kjotaafossen, Ramnåafossen and Aurstaupetfossen. You will see a lot more waterfalls on the road to Aursjøvegen and at the end of the Aursjøvegen.
After Finnset the unpaved road (Aursjøvegen) starts and adventure begins. You have to pay toll for this part of the road. The dirt road follows the river Aura which lead to Aurstaupetfossen, from the road visible form a distance. There isn't an official trail from the road to the waterfall but I have seen photo's with another perspective then from the road.
I drove the Aursjøvegen two times. A beautiful road but its tays a gravel road with parts of poor quality. The first time almost all the way Aursjøvegen was covered in a thick fog. The last time, July 2017, the weather was good and the views on the valley were awesome. Certainly the first part, from Finnset up the mountain. Here you see several waterfalls coming down the mountain but I particularly liked one called Slaettabakken. At first I thought this was the Breimegafossen, but this one is regulated and probably doesn't exist anymore.
After 1 hour on the Aursjøvegen I wished for a normal road. Luckily at the end there were several waterfalls falling down that distracted me. I was looking forward to my next waterfall, Vinnufjellfossen, one of the highest waterfalls in the world.