The Buchenegger wasserfälle are located near Steibis and Oberstaufen in the region Bayern in Germany.
You can approach the waterfall either from Steibis or from Oberstaufen. When I visited the Buchenegger wasserfälle april 2019 I drove from Oberstaufen to the waterfall. When driving on road B308 take the exit Oberstaufen, go right twice and follow the signs Buchenegg. At the end of the road go right and drive onto the parking (gps 47.53277, 10.04601). There are signs pointing to the parking of the Buchenegger wasserfälle, but driving with a gps makes life a lot easier! You have to pay for the parking.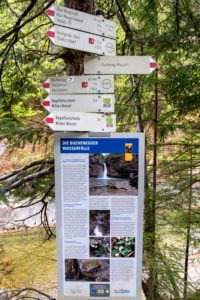 From the parking it is a steep walk down for 15-20 minutes descending more then a 100 meter. The path is well maintained but can be slippery after rainfall. Be careful with kids because sometimes you walk along a deep abyss. After 15 minutes you can see both drops of the Buchenegger wasserfälle through the trees. Visibility will be limited in summertime when the trees has more leaves.
Walk further down to the bridge where you have a marvelous view on the wild river but the Buchenegger wasserfälle is behind a big rock. Walk left to the river until you can see the lower part of the Buchenegger wasserfälle. The biggest single drop (unterer fall) is appr 5 meter high and has a big pool in front of the waterfall. I stayed long making dozens of pictures.
The scenery is astonishing and the sun was sometimes shining during my visit April 2018. The weather was terrible the day before so I was happy the weather was good, although very cold, 5C.
I was afraid going back because the trail was so steep but going up is maybe even easier. In 15 minutes I was back at the car. I think I was in good shape.
The Buchenegger wasserfälle are certainly a visit worthwhile and at a warm day a perfect spot for a swim. It is certainly one of the most beautiful waterfall I have seen one my trip chasing waterfalls in the Allgäu (Bayern).