Cascade d'Arizes
(Cascade d'Arises)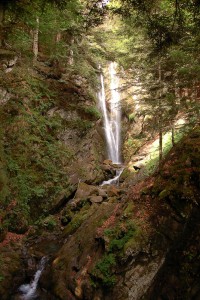 Cascade d'Arizes is a gorgeous waterfall at the Col du Tourmalet, a famous mountain peak in the Pyrenees, France.
When driving from Campan to Argeles Gazost ,over road D918, you you pass the col du Tourmalet. The road goes up to an amazing height of 2.115 meters. In summertime it is very crowded with bicycles. popular in Europe.
After Artigues there is a small, very old sign, pointing to Cascade d'Arizes. From the roadside it is a short and easy walk through the woods until you see the amazing Cascade d'Arizes.
Although Cascade d'Arizes is only 25 meters high it is a very picturesque waterfall and fun to visit. Perfect for a day trip when visiting the French Pyrenees.
Nearby you also can visit the bigger cascade du Garet. This waterfall is also easy to access.
The col du Tourmalet is one of the highlights in the "Tour de France", a cycle tour of 3 weeks and very