Cascade d'Oô
(Cascade du Lac d'Espingo)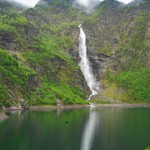 Cascade d'Oô or Cascade du Lac d'Espingo is one of the best waterfalls in France you can visit. Cascade d'Oô is located at Lac d'Oô that can be reached from the end end of the Valley Val d'Astau, southwest of Bagneres de Luchon in the French Pyrenees.
The trail to Cascade d'Oô starts at a very busy parking (gps 42.764636, 0.501904) at the end of road D76 in Val d'Astau. The trailhead lies at the beginning of the gravel road that goes south.
Directly behind the parking you will see another nice waterfall Cascade de Madeleine. The trail to Cascade d'Oô is one of the most beautiful ones in the French Pyrenees with at the end the end the beautiful Cascade d'Oô. The amazing light and shadows, the green colors and the reflection in the lake makes the Cascade d'Oô very photogenic.
The walk takes about 1 hour (3.4 km) and can be a little bit difficult at some parts, but still good to do. From the start at the parking the descent is 365 meters. The trail is called GR10 and goes further then Cascade d'Oô.
Unfortunately the weather was very poor when we visited the waterfall in May, but still one of the best waterfalls in France!
Cascade d'Oô is fed with melted snow and ice from Pic des gorgs Blanc (3.123 m) and two other high mountain peaks. From Lac d'Espingo the water drops down to Lac d'Oô creating a 273 meter heigh waterfall…Cascade d'Oô.