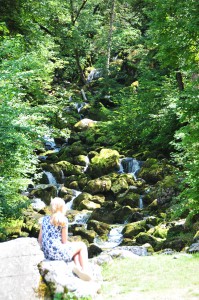 Cascade de la Frasnée is a small low volume waterfall near Clairvaux les Lacs in the Jura, France.
Staying at camping le Fayolan in Clairvaux les Lacs, I saw a sign for Cascade de la Frasnée. Always in for a little research, so we drove to Cascade de la Frasnée following the signs. It was a short drive to a nice and picturesque spot, but unfortunately almost completely dry.
Nevertheless a nice place with formations of rocks and a place where you can find fossils. Cascade de la Frasnée isn't very touristic and is used by locals for a picnic and short walks. There is also a small restaurant where they sell ice cream, perfect for children. There is a free parking in front of the waterfall.