Cascades du Herisson – le Saut Girard
Cascades du Herisson – "le Saut Girard" is the last of the Hérisson waterfalls. The cascades du Hérisson are a series of several waterfalls, within four kilometer, in the river Hérisson.
The cascades du Hérisson are located near Doucier in the Jura (Franche Comte), France. There are several points where you can start a walk following the river Hérisson. Most people start at the visitors centre at the west side of the trail: From Doucier drive south and shortly after take the left turn to road D326. There are signs for "viewpoint – cascades du Hérisson". After 8 kilometer the road ends at a very big parking near the visitors centre (maison des cascades). You have to pay for the parking!
From the parking follow the trail east following the river. The first waterfall (L'Eventail) can be reached in 10-15 minutes. This is also the highest waterfall (65 meter) of cascades du Hérisson. The trail goes steep up along the waterfall to the top.
After 600 meter/5-10 minutes (from the top of L'Eventail) you already can see the second waterfall le Grand Saut (60 meter). In my opinion the most beautiful waterfall of cascades du Hérisson.
From le Grand Saut it is a 1.2 kilometer/20-30 minutes walk to the third waterfall of Hérisson – le Saut de la Forge. This is a 10 meter high waterfall but still very beautiful to see. In total there are seven named waterfalls but I have only listed the four highest.
The next and last waterfall of Hérisson – le Saut Girard is on 2 kilometer east/30-35 minutes, still following the river. Also a very impressive waterfall, 35 meter high. This ia also the perfect place for a picnic. When preparing a nice lunch or picnic don't forget to take some nice family pictures. Le Saut Girard is quite photogenic, a guarantee for beautiful pictures.
This is the end of the walk. You have to walk back the same way. In total a round trip walk is 10 kilometer and will take approximately 3 hours.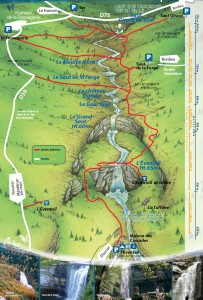 The walk is suitable for children but it can be slippery, so be careful. There are enough spots where they can play with water or where you can buy an ice cream. My daughter enjoyed the walk very much when she was still young.
If you don't want to walk all the way it is also possible to visit all waterfalls from three parkings:
1. Parking Doucier-visitors centre: Cascades du Hérisson – "l'Eventail" and "le Grand Saut"
2. Parking Bonlieu (gps 46.613467, 5.867669): Cascades du Hérisson – "le Saut de la Forge"
3. Parking Ilay (gps 46.611739, 5.884507): Cascades du Hérisson – "le Saut Girard"
A long time ago we visited all cascades du Hérisson twice when staying at a camping in Clairvaux les Lacs (near Lons le Saunier). The first time we started from the parking at Bonlieu (no parking fee) and the second time from Doucier. It doesn't matter where to start because you have to walk the same way back.
With warm weather it is a very pleasant (refreshing) walk along the river through a forrest. Only disadvantage when going in summertime is that the waterflow is reduced. If you want to see the more powerful waterfalls of all cascades du Hérisson you have to go in autumn or after a rainy period.
There are several other nice waterfalls in the Jura. The one I also liked was Cascade de la Queue de Cheval near Saint Claude in the Haut Jura. This is a 60 meter high waterfall in a very beautiful surrounding.