Cascade de la Pissevache (Vernayaz)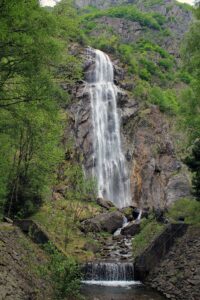 Cascade de la Pissevache is a nice waterfall north of Vernayaz in the region Valais, Switzerland.
Drive from Vernayaz north to Montreux over road 21. Soon you will see Cascade de la Pissevache at the left side of the road thundering down over more the a hundred meter, very impressive. There is parking right in front of the waterfall (gps 46.144417, 7.030873).
Cross the road. There is a path at the right side of the restaurant that runs to the base of the waterfall. Probably Cascade de la Pissevache is a regulated waterfall because I see a power plant at the top of the waterfall. Because I see enough pictures of the waterfall there is a big chance you can see Cascade de la Pissevache in all its glory.
This is a nice daytrip when staying in Montreux or somewhere at Lac Leman. Nearby in Salvan (Vernayaz) you can visit a gorge with a nice waterfall: Cascade Gorges du Dailley.