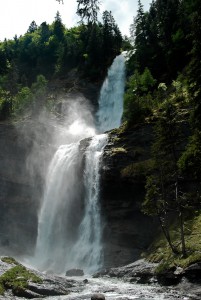 Cascade du Rouget is one of the most powerful waterfalls in the French Alps and is 90 meters high. The nickname of the waterfall is "Queen of the Alps". In 2009 cascade du Rouget was voted to be the most beautiful waterfall of France. It is certainly one of the most beautiful ones of France.
Cascade du rouget is easy accessible and lies directly along the main road. From Sixt Fer a Cheval drive south over road D29. After 4 kilometer you will see the immense waterfall of Cascade du Rouget at the right side of the road. There is a parking in front of the waterfall.
The river Sales is in springtime a wild river fed by melted water from a mountain range around chalets de Sales. Although the mountain range doesn't cross the 3.000 meters it is an area with a lot of snowfall that feeds the river Sales.
Cascade du Rouget is in my top 10 of best waterfalls to visit in France. The region around Sixt Fer a Cheval is famous because of the many waterfalls.
Upstream of Cascade du Rouget you will find another great twinfall cascade de la Pleureuse and cascade de la Sauffaz. Not very high but of great beauty. When walking further upstream you will see Cascade de Sales, a powerful single drop of 30 meters.
On the way to Cascade du Rouget you drive by a twin waterfall Cascade de Saubaudy and Cascade du Dechargeux. In Sixt Fer a Cheval you can visit a very tall waterfall Cascade de Pissevache (Cirque du Fer a Cheval).