Giessbachfälle
(Giessbachfalle)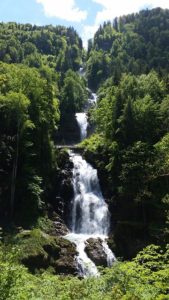 The Giessbachfälle is one of the most famous waterfalls of Switzerland, located near Brienz in the region Berner Oberland.
When driving on highway 8 take the exit Brienz (29). Follow the sign Giessbach, don't drive to Brienz. From the exit it a 3 kilometer drive until you reach the big parkings (paid – gps 46.734718, 8.026417). It is a short walk to the hotel and the lower part of the Giessbachfälle. The hotel was built in 1873 and has an amazing view on the Brienzer see (lake).
From the hotel it is possible to hike up along the Giessbachfälle all the way up to the top of the waterfall at an altitude of 900-1.000 meter.
If you don't want o go to the top of the Giessbachfälle, you can take the short walk (waterfall roundtrip takes) which takes appr. 20 minutes. Take your time, there are so many beautiful viewpoints.
It is years ago since we were visiting the Giessbachfälle but I am sure we missed a lot. We only made a short walk, near the hotel. Next time I want to explore all 14 cascades.
The Giessbachfälle is an astonishing waterfall that plunges down 400 meter over 14 stages. The height of the waterfall is subject to many discussions. Some Internet sites speaks of 500 meter, other of 400 meter.
If you want you also can make a trip with the Giessbach funicular. The Giessbach funicular was established in 1879 and is the oldest funicular in Europe that is only used by tourists. The train connects the landing stage of "Giessbach See" (Lake Brienz) with the hotel, which is situated approximately 100 meter above the lake.
Another option to visit the Giessbachfälle is when parking the car in Brienz near the boat terminal and take a day ticket for the boat to the waterfall. Quite expensive but a nice way of transportation on a sunny day. More information about the boat trip can be found here.
Best time to visit the Giessbachfälle is late spring, early summer when the weather is improving and a lot of snow is melting down from the mountains up at the waterfall. The highest peak is the mountain Schwarzhoren with a height of 2.928 meter.
There are several other great waterfalls nearby. My favorite waterfalls are located in the Lauterbrunnen valley, south of Interlaken. The most famous ones are the Trümmelbachfälle and the gorgeous Staubbachfall, a must to visit.