Haifoss
(Háifoss í Fossá)
Háifoss í Fossá (mostly called Haifoss) is the second highest waterfall of Iceland, after Glymur, with a single drop of 122 meters. Haifoss is situated in the South of Iceland not far from the Volcano Hekla. From the view point you can also see another impressive waterfall next to Haifoss called Granni which means neighbour.
There are two possibilities to reach Haifoss:
1. Walk from the historic farm Stöng.There is a walking trail at Stöng farm which leads along the river Fossá to Haifoss. Oneway this walk takes about 2,5 hours (8 kilometer). More information about the hike can be found on Wikiloc.
2. From Selfoss drive up road 30 and then road 32 to the powerplant Sultartangi. Just before the powerplant take the exit left to road 332 (gps 64.153741, -19.672636). There is a small sign for Haifoss and Laxargljufur. Drive further up to the parking (gps 64.206876, -19.678418) near Haifoss (road 332) over a dust and bumpy road for 8 kilometer, not a very pleasant drive! I am not sure if the dust road is also suitable for 2WD. In 2011 we drove a short while on this road but with a small car impossible, so we went back without seeing Haifoss… From the parking it is a short walk before you see Háifoss.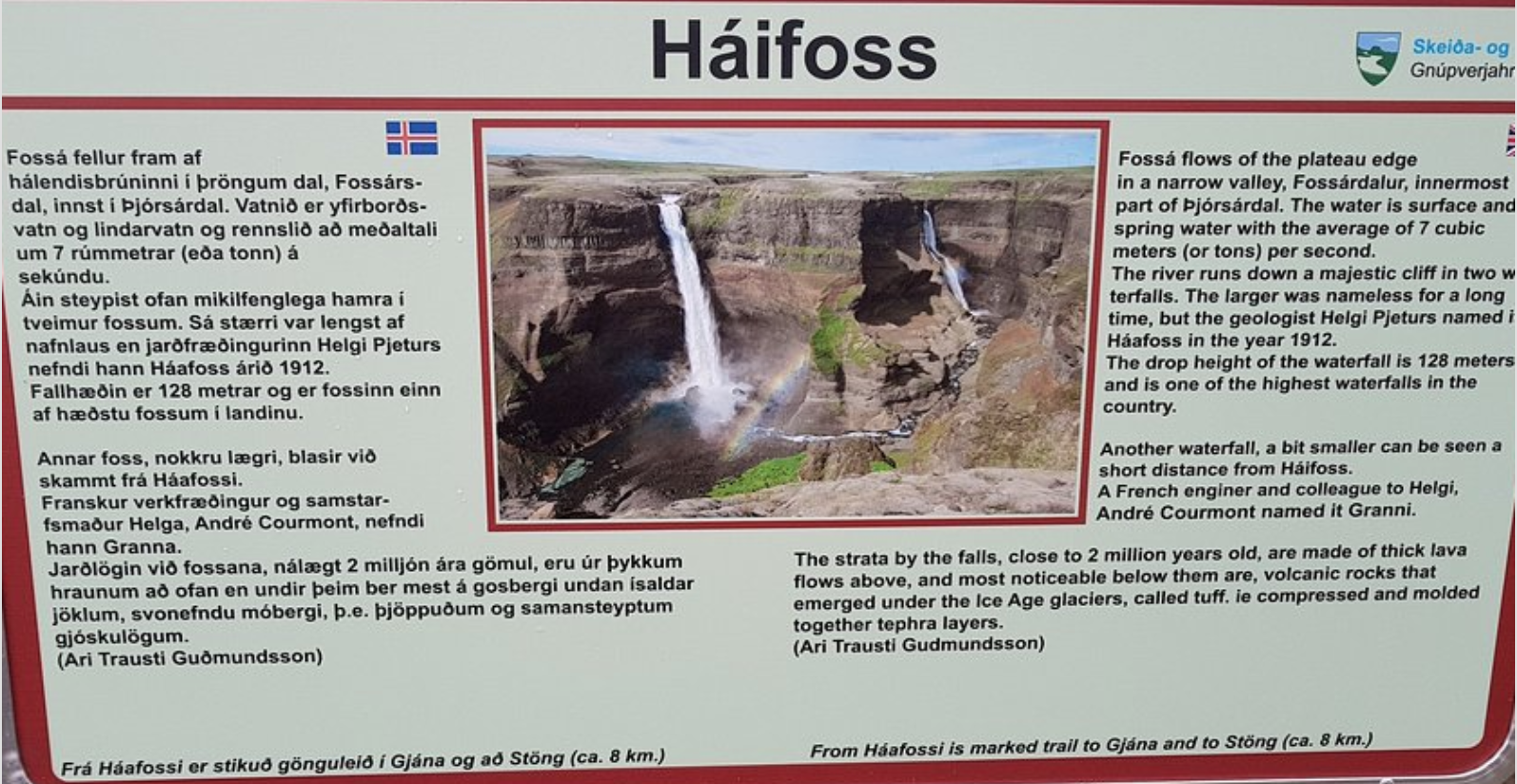 Háifoss is located near the Golden Circle, so a day tour is certainly the visit worthwhile. It's only a 2 hour drive from Reykjavik.
Nearby you can find an astonishing valley valley Gjáin. On the way back you can go straight ahead onto road 327 (gps 64.158680, -19.674097), just before you enter road 32. From the crossing it is a 3,7 kilometer drive to the parking near Gjáin (gps 64.149061, -19.736690).
Gjáin is a stunning ravine with lush vegetation in Þjórsárdalur in the South of Iceland, not far from the Hjalparfoss. Gjáin means rift and is a valley with several breath taking waterfalls, although these aren't vert high. The most famous and most photogenic one is called Gjáinfoss or Gjárfoss but mostly just named Gjáin. Gjáin was a filming location in Game of Thrones.
Stöng is a reconstructed viking farm. It is a historically accurate reconstruction of the three buildings, including a longhouse, which stood 7 km to the north at Stöng; the farm is believed to have been buried under volcanic ash in 1104 following the eruption of the volcano Hekla.
The reconstruction was built in 1974 as a part of the national celebrations of the 1100th anniversary of the settlement of Iceland in 874.
(c)photo Kavram | Dreamstime.com
Image2 by https://www.flickr.com/photos/opedal/
For a list with all waterfalls in Iceland or a map with all waterfalls in Iceland, go to the main Iceland section.