Hydnefossen is the highest waterfall in the region of Buskerud and is located in the Hemsedal, 10 kilometer north east from the town Hemsedal.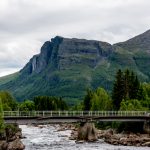 It is not difficult to find Hydnefossen. When diving on road 55 you will see the distinctive shape of Hydnefossen from a far distance. It is peculiar that Hydnefossen is more impressive when seen from a distance, from the side (coming from the south).
With a total height of 530 meter Hydnefossen is a tall waterfall with a single vertical drop of 150 meter. I visited Hydnefossen twice (in May years ago and July 2017) but both time the watercourse in the river Hydne was minimal. On the other hand, it creates a waterfall with 3 separate drops next to each other.
There are several viewpoint along road Rv52 and there is small road leading to the farm in front of Hydnefossen where you have the clearest view on the singel drop of 150 meter. For people who likes to hike, there should be a path leading to the top of Hydnefossen with a fantastic view over the valley.
Hydnefossen was the first waterfall on my Norway trip in July 2017. I drove 5.200 kilometer through the south and middle of Norway chasing the most beautiful waterfalls. In 2016 I visited Norway to, visiting the more southern waterfalls.
If you are in the Hemsedal there is another waterfall you should visit. Rjukandefossen is located  7 kilometer west of Hemsedal and is one of the most photogenic waterfalls in Norway. The waterfall is easy to reach and is suitable for people with children.
Hemsedal is actually a popular destination in wintertime for people who want to ski with 20 lifts. In summertime you can go trout fishing or if you want to be more active, biking or hiking. When I was in  Hemsedal, the village looked a little bit desolated to me.