Kravice vodopad
(Kravica, Kravice falls)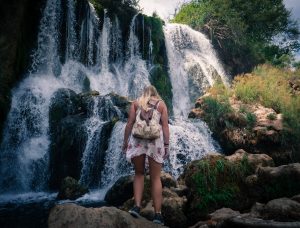 Vodopad Kravica (or Vodopad Kravice/Kravice waterfalls) is one of the hidden treasures in Europa and is situated near Ljubuški, Mostar, Bosnia-Herzegovina.
Kravice Vodopad is a truly spectacular natural attraction and, until now, one of the least-heard of wonders in Europe. The falls are 28 meters high, made of over a dozen gushing springs, span over 120 meters in a lovely semi-circle and, at the highest water peak, can churn out an insane amount of water. Visit in spring, especially after a rainy week, and you can see them at their glorious best.
The falls are nestled in a natural reserve about 40 kilometers south-west of Mostar. The best way to get there is individually car. The roads are good and the falls are easy to find. From Mostar head south-west following signs towards Krusevo and follow the road all the way to Ljubuski, where you'll turn left towards Studenci. About 10 kilometers from the turn you'll see a brown sign pointing to a left side road advertising Kravice Falls. The road ends after about 3 kilometers, right at the car park.