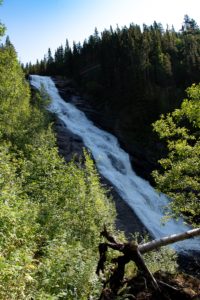 Nekfallet (or Nekfossen) is a nice powerful waterfall near Finnstad (Rendalen) in the region Hedmark, Norway.
Driving on road Rv3 take the exit to Tynset and there go right to Finstad (Fv665). After 31 kilometer you will see the sign "Nekfossen 0.8 km". This is a small tollroad (40 NOK in 2019) going up. Drive up the pebble road to a viewpoint on Nekfallet where there are a few spots to park a car.
There is an information board (in Norwegian) about the Nekfallet and a bench where you can enjoy the view on the waterfall thundering down over 75 meter. But the view isn't complete when not walking to the base of the waterfall.
Follow the sign to the base of Nekfallet where you have a great view. The path is sometimes slippery (so be careful), some small medium steep parts, but possible to do. After 5-10 minute you reach the base of Nekfallet. Best view is when climbing your way down a little over the big rocks.
Nekfallet is the highest waterfall in Hedmark with a height of 75 meter. The river Neka thunders down with great force from early summer til summertime. Nekfallet falls towards the west and best can be visited in the afternoon.
The source of the river Neka lies up at the mountain plateau Nekmyrene at an altitude of appr 1.000 meter.
Nearby you can find another great waterfall (although not that high) Tegningfallet near Hanestad.