Nesselburg Wasserfall
(Schloßbach wasserfall)
The Nesselburg wasserfall or Schlossbach wasserfall is a nice waterfall south of Nesselwang in the region Bayern, Germany.
Nesselwang is located between Reutte and Kempten, not far from road 7 and the scenic tourist road "Deutsche Alpenstrasse". The Nesselburg wasserfall is easy to reach if you know where to start. From the main road in Nesselwang take the exit to the Alpspitzbahn. There is a huge parking but drive further to the end of the road until you arrive at the Explorer Hotel.
The walk start at the parking of the Explorer hotel or you can park the car near the Aral gas station along B309. From the Explorer Hotel it is a nice and easy 15 minute walk to the Nesselburg wasserfall (Schlossbach wasserfall). Follow the signs "Wasserfallweg". The trail follows the river Schlossbach and there are some small rapids in the river but the highlight is still to come.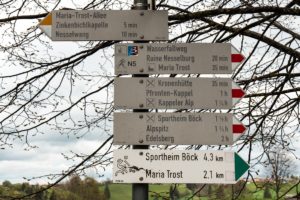 When arrived at the Nesselburg wasserfall you have a clear view on the multiple tiered waterfall with a height of 28 meter. The view with the stairs aside of the waterfall is astonishing. Especially if there are people standing with striking colored jackets on.
I visited the Nesselburg wasserfall end of April 2019 and the weather was cold, dark with a little rainfall. You can see this in the pictures but I also like the dark view.
On the way back you can choose to walk up to the top of the Nesselburg wasserfall and there turn left to the Nesselburg ruins. You now follow the river back but then on top of the hill with a nice view down. The ruins aren't very special but it is always nice to take another trail back.