Partschinser Wasserfall
(Cascata di Parcines)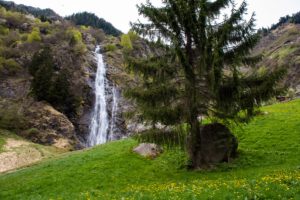 Cascata di Parcines or Partschinser wasserfall is one of the most beautiful waterfalls of Trentino – Alto Adige (Südtirol) and is located near the village of Parcines, a few kilometers from the town of Merano in Italy.
The waterfall has a single drop of 98 meters but I measures a total height of 130 meter. This makes the Partschinser wasserfall one of the highest single drop waterfalls in the region Trentino – Alto Adige (Südtirol).
The Partschinser wasserfall is easy to access from the village of Parcines. Many people walk from the village to the Partschinser wasserfall (2 km – 40 minute walk) but I preferred to drive northwest over a narrow road to the hamlet Salten and a little further to the parking near Gasthaus Birkenwald.
The view from the roadside that you have from a distance is already amazing. Better drive further down the road to the public parking near Gasthaus Birkenwald (gps 46.692393, 11.054068). There is also a small parking (three cars) at the small road going left just for Gasthaus Birkenwald.
The trailhead lies at the bridge, just in front of the Gasthaus (gps 46.691808, 11.053162). From here it is a 5-10 minute walk to the bottom of Cascata di Parcines (Partschinser wasserfall). The walk is easy and you can takes pictures from all sides: from the river when walking to the waterfall. Just in front of the waterfall on a hill, but you can also walk down to the Partschinser wasserfall.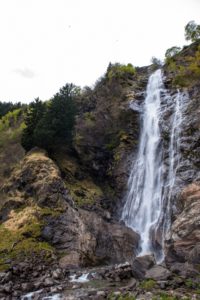 When visiting the Partschinser wasserfall end of April 2019 I spend over 30 minutes enjoying the waterfall and taking pictures. The thing I didn't do is to walk further to the farm and there take the trail up to a viewpoint a little up at the waterfall. I think at this point you have a good idea how many water is falling down the Partschinser wasserfall. To give you an idea:
Watervolume Partschinser wasserfall: April 50-60 l/sec, end April 100-200 l/sec, May 350-500 l/sec, June-July 5500 l/sec
If I see this figures I really to go back in summertime. The view on the waterfall is characterized by the majestic Monte Tess Here lies the largest natural park of Alto Adige, Parco naturale Gruppo di Tessa, which features numerous hiking trails.
There are several other waterfalls near Merano like the beautiful Fragsburger wasserfall or the unknown Aschlbach wasserfall at Gargazon, both a visit worthwhile.