Salto do Cabrito
(Cascata do Cabrito)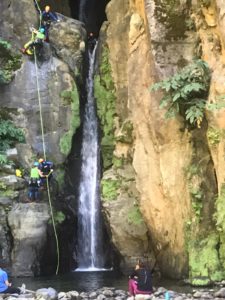 Salto do Cabrito (also named Cascata do Cabrito) is a remarkable waterfall near Caldeiras da Ribeira Grande on the Island of São Miguel (Azores), Portugal.
From Ribeira Grande take road EN-2a to Lagoa do Fogo. Halfway you have to take an exit to the left (gps37.799042, -25.501442). There is a sign "Salto do Cabrito", drive on and stay left until you go steep down and reach a big parking (gps 37.795535, -25.495993). From here it is a 3 minute walk to the bottom of Salto do Cabrito. Walk towards the bridge.
It is also possible to walk to the top of Salto do Cabrito where you have a great view on both jumps.
Salto do Cabrito has two (visible) major stages and is appr. 30 meter high. The waterfall is popular for canyoning. When we where at the waterfall a big group was descending down. What you also have to do is to walk a little back from the parking, following a sign "water spring". A short walk (3-5 min) brings you to the river. Take off your shoes and walk a little into the canyon for a great view.
The picture above was taken by my colleague Joelle Jutte, Oktober 2019. We visited Salto do Cabrito August 2022 and in summertime there is still a lot of water in the river. By the way, this is a perfect spot for swimming!