Salto do Cabrito
(Cascata do Cabrito)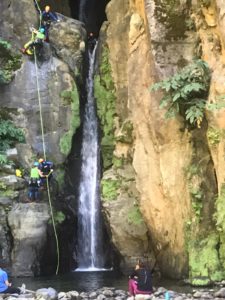 Salto do Cabrito (also named Cascata do Cabrito) is a remarkable waterfall near Caldeiras da Ribeira Grande on the Island of São Miguel (Azores), Portugal.
From Ribeira Grande take road EN-2a to Lagoa do Fogo. Halfway you have to take an exit to the left (gps37.799042, -25.501442) at a sign "Escritorios Fabrica", drive on and stay left until you reach a big parking (gps 37.795535, -25.495993). From here it is a 5 minute walk to a viewpoint on Salto do Cabrito.
Salto do Cabrito has two (visible) major stages and is appr. 20 meter high. I saw pictures of canyoning in Salto do Cabrito, so probably the total height of the waterfall is much higher.
The picture was taken by my colleague Joelle Jutte, Oktober 2019.