Schwarzenbachfall
(Schwarzenbach wasserfall)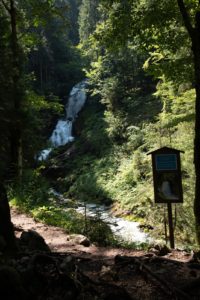 The Schwarzenbachfall (also called Schwarzenbach wasserfall) is a beautiful waterfall near Oberscheffau in the region Salzburg, Austria.
When driving on road 162 at Oberscheffau there is an exit (near the bridge over the river Lammer) to "Alte Mühle", a big brown sign. Directly after the exit there is a parking, but you also can cross the next bridge and take the next more parking that is more in the shadow (gps 47.576182, 13.267038).
From the parking "Darmowy" there is a trail called Mühlenrundweg (Mill trail) that runs along an old Mill and the Schwarzenbachfall. Start walking east along the river until you reach a next bridge after 150 meter with some cosy houses. Follow the road (you can't park your car here) along the houses and take the path left (there are signs) that runs paralel to the river Schwarzenbach.
The trail is very easy and well signed. Follow the signs Mühlenrundweg or Winnerfall that also runs to the Schwarzenbachfall. After 25-30 minutes you reach the lower Schwarzenbachfall with a height of Approximately 8 meter. At the right you see the nice mill (alte mühle).
Continue following the trail that now goes slightly up until you see the big Schwarzenbachfall, after a few minutes. This looks more likely. The Schwarzenbachfall is a medium powerful waterfall with a height of 22 meter that looks very nice.
There are enough spots to take nice pictures or to have a picnic, although the spot at the mill is more perfect for a picnic.
The trail runs further up (more steep) to another waterfall called Winnerfall and to the source of the Schwarzenbachfall. After another 10-15 minutes you reach the Winnerfall. Normally a nice waterfall but unfortunately it runs dry in summertime. At least when I was there July 2020…quite disappointing.
If you want to see more waterfalls… It is also possible to walk up to a beautiful viewpoint and the Trickfall and Dachserfall. This is quite a walk. If you don't want to walk that long. The Trickfall and Dachserfall are easy to reach from Au (Abtenau).