Slap Virje is a nice waterfall located at Plužna, west of Bovec in the region Goriška – Tolmin, Slovenia.
In Bovec drive to the city centre towards the church and further on to Plužna. There are no signs, so use navigation but when the road splits up keep left. In Plužna (at the junction)go right and follow the signs for slap Virje (on a small road that looks like a path only for pedestrians) until you reach a very small parking (3 cars). What I didn't know is that you can drive a little bit down and park the car along the road (if the parking is full).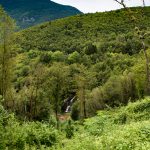 From the parking it is a 5 minute walk to the base of Slap Virje and from the parking you already can see slap Virje down the valley. The walk is easy and descents to the bottom of the valley. There are several information boards about slap Virje.
The river Glijun drops down over 12 meter and can be very powerful in springtime but also can run almost dry. When we were there July 2017 slap Virje had a low volume and the week before it had rained very much…Unfortunately also water is diverted to a nearby hydroelectric power plant. Slap Virje is only 12 meter high and has a wide of  appr. 20 meter.
Slap Virje is a Karstic waterfall and the flow of the water can fluctuate much. The source of the waterfall lies a little bit upstream at the spring of Glijun (Izvir Glijuna) on an altitude of 430 meter. Best time to visit Slap Virje is after heavy rainfall or late springtime when there is a lot of melted snow in springtime.
Many people where enjoying, also locals, where enjoying the beauty of the emerald green pool and took a swim. The water is quit cold, so I don't know if swimming is so pleasant…
There are many other waterfalls in the region of Bovec. Slap Boka is close to Bovec and is one of the highest waterfalls in Slovenia. The most beautiful waterfall of Slovenia is located a little to the south at Kobarid, the gorgeous Slap Kozjak. This is really a must to visit.
The region of Bovec is perfectly suitable for hikes, canyoning and rafting. We did two tours: rafting on the river Soca and canyoning in the Susec gorge (nearby slap Boka). More information you can find at the website of Bovec Rafting Team (recommended).