Styvefossen
(Styvifossen)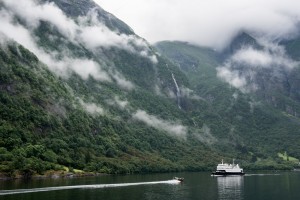 Styvi is a farm on the eastern side of the Nærøyfjord in Aurland in Sogn og Fjordane. This site has no road connection to the outside world, but there is a footpath 5,5 km into the fjord at about the height of Bakka. Styvi has got the smallest post office in Norway and they have their own postal code despite the fact nobody lives there during the winter. And if interested, there is a Farm museum at Styvi.
Styvefossen (also valled Styvifossen) is the waterfall in front of the farm Styvi. With a total height of 450 meters, a significant water flow (in the early summer) and a good view on the 2 cascades this waterfall is one of my favorite in the region of Sogn og Fjordane. Styvefossen is fed by several small lakes and glaciers in the Styvisdalen. The highest point is a small glacier called Syrdalsbreen on an altitude of 1700 meters.
From Aurland-Flam there is ferry going through the Næroyfjord to Undredal and Gudvangen. It takes two hours with the ferry to get from Flam to Gudvangen. Other possibility is to rent a canoe.
I visited the Næroyfjord once by ferry. You can departure from Flåm or from Gudvangen. It doesn't matter much where to start from, oneway trip time is appr. 1h 45min. We departed from Flåm. There are many companies offering boat trips but we took the slow (old) ferry boat of LustraBaatane. It was cheap (compared) to other boats, personal was very friendly and there was a big deck from where we could enjoy all waterfalls in the Næroyfjord. Prices (oneway) for 2019 are 295 NOK and 200 NOK for children. More information can be found on: LustraBaatane.com.
Unfortunately the weather was not very good when the ferry turned into the Næroyfjord. The first major waterfall you meet in the Næroyfjord is Lægdafossen (Sagfossen) at the right side of the fjord. The waterfall was covered with clouds and it was slightly raining. Nevertheless we enjoyed the trip very much. This was an experience you have to face.
The Næroyfjord is a very narrow fjord and is a side arm of one of the deepest fjords in the world, the Sognefjord. Going through the Næroyfjord you can view several unnamed and named waterfalls like the Odnesfossen, Tuftofossen and the Lægdafossen.
The Styvefossen is an unofficial named waterfall.
Note: if you go by ferry one way and you were by car, you have to take the bus back. I can remember we had to wait over 1 hour before the bus departed!!!!