Svandalsfossen is a great waterfall south of Sauda in the region Rogaland, Norway. The area where the waterfall is located is also called Ryfylke.
One of the main attractions in Norway is the Preikestolen in the Lysefjorden. A lot of people drive north on road Rv13 heading to the touristic area near Odda and Voss. It is an option to take the ferry at Sand and then drive further on road Rv520.  This road leads along several nice, unknown and surprising waterfalls.
Svandalsfossen is situated directly along road Rv520, 6 kilometer south of Sauda at the west side of the Saudafjorden. It is almost impossible to miss this majestic waterfall when driving on road Rv520. The designers of the rusted stairs made sure that your attention goes to this great peace of architecture and the power of Svandalsfossen. The stairs where placed in 2006 and are designed by Helge Schjelderup Arkitektkontoret Schjelderup & Gram.
There are also signs near Svandalsfossen that takes you to a nice parking with great views on the Saudafjorden. From the road side you can see only part of the waterfall, but just a few hundred meter further up you can see the towering waterfall at close range.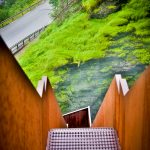 From the car parking have to take a path going underneath the road to the lower part of waterfall. Along the waterfall a construction of rusted iron stairs (art work) takes you along the Svandalsfossen to the upper part of this amazing waterfall. It takes 540 steps before you are close to the upper part of Svandalsfossen.
With a height of 180 meters, Svandalsfossen is one of the bigger waterfalls in Rogaland. The upper part of the waterfall has a single drop of 40 meter and is very impressive to see. The waterfall is named after a small Hamlet called Svandal, upstream the river Svandalselva.
Svandalsfossen is being fed with melted snow from the mountains at the west side of the Saudafjorden. The drainage area is big and main supplier of the river Svandalselva is lake Svartavatnet. There are many other small lakes that feeds Svandalselva and early summer Svandalsfossen can turn into a very powerful waterfall. I think this is also the best period to visit the waterfall. Because Svandalsfossen is falling towards the east-southeast morning time is perfect for visiting the waterfall.
I visited Svandalsfossen twice and it is one of my favorite waterfalls in the Rogaland area. This is a typical waterfall where you enjoy nature, make a short walk and have magnificent views from above.
A few kilometer back, also along road Rv520, you will find another waterfall, Honganvikfossen. There are many other nice waterfalls worthwhile to visit in the area of Sauda. A list of waterfalls in the Sauda region you can find here.
More information about the Sauda region can be found on the website of VisitNorway.