Veslulfossen
(Vesleulfossen)
Veslulfossen or Vesleulfossen is an official named waterfall in the Djupdalen near Mysusæter (Sel) in the region Oppland, Norway. Veslulfossen is part of the national park Rondane.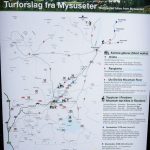 South of Otta, at road E6, take the exit to Mysusæter. From here it is a 13 kilometer drive to a big parking (paid). The road goes steeply up in the beginning with a lot of hairpin curves. The road is of good quality and soon you reach a big information board about hiking in Rondane. Here you have to park the car (paid), the road is further on only accessible for inhabitants. I was particularly interested in the hike to Veslulfossen. (copy link address in a new window if you want a larger version to view)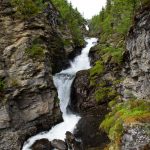 Starting point of the hike to lies a little bit back at the road. Here you will see a sign "Veslulfossen 4,3 km". The signs are sometimes confusing and I had to use my gps several times. The hike starts with following the river Storula. The walk is of great beauty passing several nice waterfalls with a height of 5-10 meter. Now I know why I saw a sign "Ulafossvegen" at the beginning of the trail.
The trail goes up and after the ascend you have to go to the other side of the river. The trail is good but sometimes very muddy with a lot of water on the trail. Keep following the river as much as possible until you see a sign "Veslulfossen over Kasen, 2,3 km". Now it got confusing for me. I thought this is the only sign for Veslulfossen so I took the path left to Kasen. After climbing up (very steep) I quit and went down again. This was not the path I remembered taking 10 years ago. Afterwards I realized I had to follow the red trail further and later on go left to the yellow trail to Syverstien.
At the end of the trail there is a nice viewpoint from above on Veslulfossen. Years ago we also climbed down to the river, but be careful and watch the vegetation.
The hike to the waterfall takes appr 1,5 hour and is medium demanding. It is also possible to follow the red trail from the parking to the Peer Gynt trail and then turn left the yellow trail. But then you miss all the beautiful waterfalls.
Veslulfossen is an unknown waterfall but yet one of the most beautiful waterfalls in Norway. The river Vesle Ula plunges down in several steps over 225 meters. Best time to visit Veslulfossen is early summer and summer early in the morning or late in the afternoon (water falls towards the south)
Going back to the main trail heading to Peer Gynt Hytta there is another gorgeous waterfall, not that high but very beautiful: Bruresløret or Storulfossen.