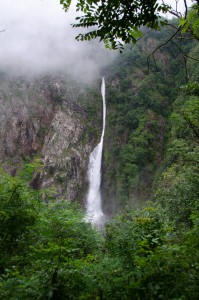 Cascata della Troggia is suprisingly beautiful waterfall near Introbio, in the region Lombardia, Italy. The waterfall is visible from the roadside in Introbio. After the bridge over the river Troggia (gps 45.978030, 9.448888) there is a parking from where you can see Cascata della Troggia in the distance.
Another and better way is to drive into Introbio (on the right side of the river) and through a maze of streets you get as close to the falls (no signs) as possible. At the death end of the road park your car (gps 45.976640, 9.453681) and go further by foot. After a few hundred meters there is a sign (at a house) "belevedere cascata", go right here. Follow the path until you walk up against a fence, there's only a sign with a trail to the right, but go left here and follow the path for 200 hundred meters along the fence. There is the beautiful viewpoint you want to go to. It will take about 15-20 min to walk to the viewpoint.
From here you will have an almost clear view of the river Troggia that cascades down (single drop of 90 meters).
On the picture of the map from OpenStreetMap you can watch how to walk to Cascate della Troggia. It is a little bit harsh to find it. The viewpoint is called Belvedere at the upper right of the picture.