Cascata do Risco is considered to be one of the highest waterfalls on the Island of Madeira, Portugal. The waterfall is located north of Calheta near Rabaçal.
From the mainroad at the coast drive up into the mountains at Calheta, road ER211. It is a new road with some steep parts. When going to Madeira take a car with some power. You will need it. At the end of the ER211 turn right. Soon you will see a free parking which is also the trailhead of the trail to Cascata do Risco and to the famous hike "PR6 – Levada das 25 fontes".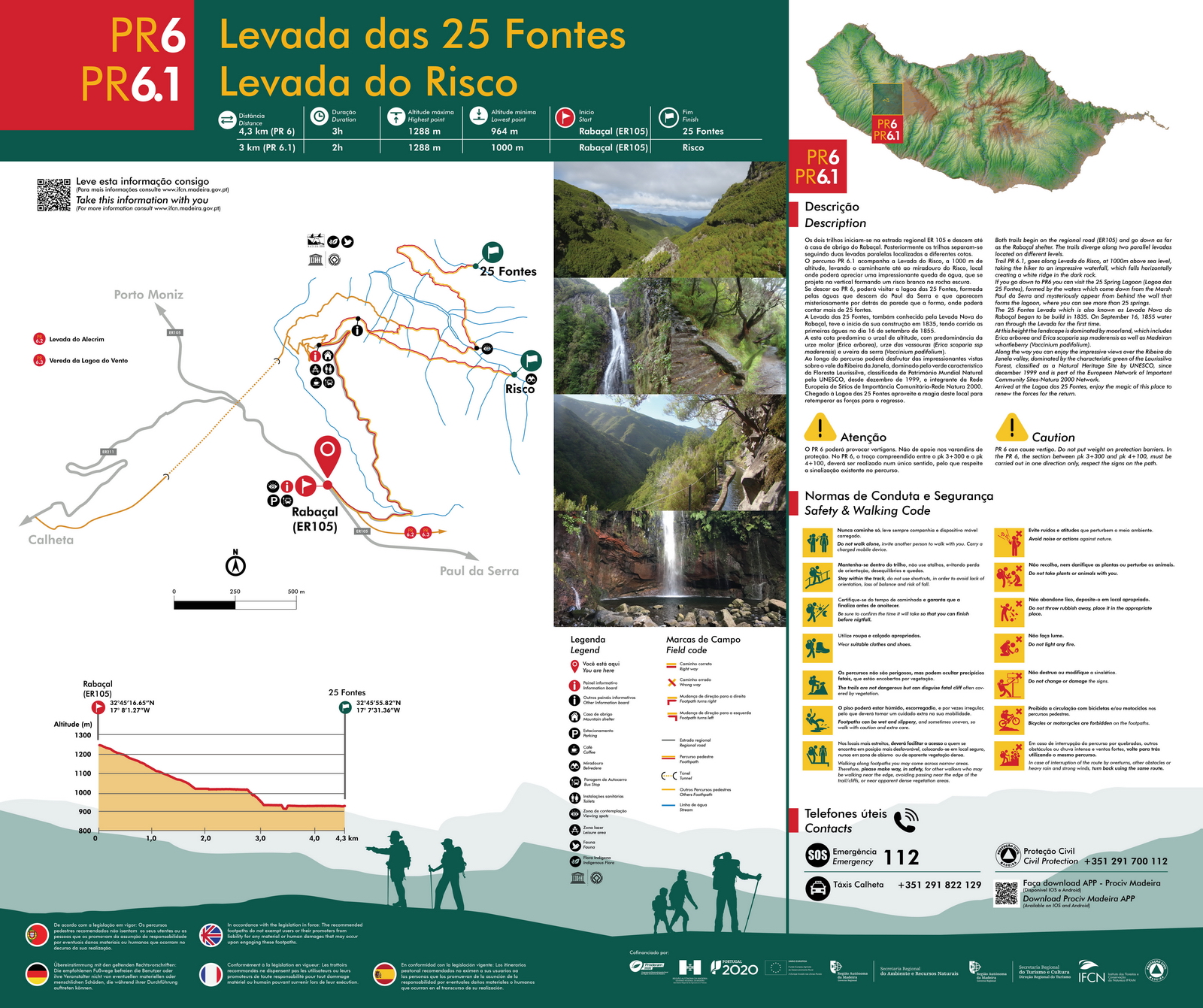 At the parking there is an asphalt road, with a barrier, going down. You have to take this road to Rabaçal cafe. There are a lot of signs, so it can't miss. The road goes steep down and the views are amazing. The asphalt road ends at Rabaçal cafe, the last opportunity to go to a toilet (you need a 50 eurocent coin). From Rabaçal it is a trail going down to Cascata do Risco and the 25 fontes. Soon there is a crossing: go right to the waterfall (800 meter detour). The trail here is very easy and flat. It can be very busy because the hike to Cascata do Risco and the cascatas das 25 fontes is the most popular one on the Island of Madeira.
It won't take long until you see Cascata do Risco falling down over two stages. With a height of approximately 100 meter it is one of teh highest waterfalls on teh Island of Madeira. I am sure there or taller waterfalls at north shore of the Island near Seixal. Nevertheless Risco is a very impressive waterfall and there was water coming down. I was afraid there wasn't. When we visited Madeira (Oktober 2023) it hadn't hardly rained for months and a lot of waterfalls dried out.
Almost everybody will finish the walk to "PR6 – Levada das 25 fontes". The walk itself is nice and easy but it can be very crowded with big groups. You can expect some delay on the trail. Nevertheless, cascata do 25 fontes is very nice to see and a perfect place for a picnic. We where glad there where a few drops of water coming down but it was minimal.
When going back, you can take a shuttle bus from Rabaçal to the parking (€3), but also here there can be long cues, certainly in the high season. My wife took the shuttle bus and I walked up in 30 minutes and I arrived earlier at the parking then my wife taking the shuttle bus.
The roundtrip time of the hike "PR6 – Levada das 25 fontes & cascata do Risco" took us exactly 4 hours, including lunch, taking a lot of pictures and the detour to cascata do Risco. It isn't a very difficult hike but I saw people who had problems with ascending. Although it is a very touristic hike, I don't regret doing it.
Because this part of Madeira is so beautiful with the best views, we drove further west on road ER110 and (unfortunately) experienced the devastating power of bush fires. Along road ER210 to Prazeres, you still could see and smell burned woodland. Sometimes we even saw some smoke. It went all down to the first houses of Prazeres. Luckily it stopped there but a big piece of the beautiful Island of Madeira was destroyed and it will take a while to recover. When we went home after a week it started raining, so there is hope!