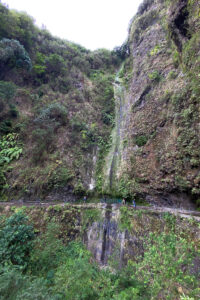 Cascata da R. dos Pombos is a tall and gorgeous waterfall when making the hike "PR16 Levada Fajã do Rodrigues", near São Vicente, in the northern part of Madeira, Portugal.
I think the hike "PR16 Levada Fajã do Rodrigues" is one of the most beautiful walks (and a relative easy one) on the Island of Madeira. The hike starts a little south west of Sao Vicente. You can park your along the road (gps 32.779723, -17.048012) and there is enough space to do this. This also the trailhead although you can drive a little further on the dust road.
The official start of "PR16 Levada Fajã do Rodrigues" is at gps 32.778441, -17.048300. This is also the place where you can find the information board of the PR16. Already after 5-10 minutes you will see an unnatural waterfall coming down from a tributary levada. Not very special but nice to see. At this hike you don't need signs, you just have to follow the "Levada Fajã do Rodrigues". After 30 minutes (from the start) you cross Cascata da R. dos Pombos, quite an amazing waterfall when there is enough water in it. When we visiting the waterfall, Oktober 2023, it had been dry for quite a while and the river (water stream) dried out. A pity, because Cascata da R. dos Pombos is one of the nicer waterfalls on Madeira. I think, to see the waterfall in all of its glory, you have to visit in the winter months or after heavy rainfall.
When walking a little further you will see two other waterfalls (with water in it), just before the 1 kilometer long tunnel!!! After the tunnel there isn't much interesting. The walk ends at a canyon where the river Ribeira do Inferno comes down. The surrounding is beautiful and there is a small waterfall but further there is nothing to explore. In total a roundtrip took us 3-3,5 hour. The walk is easy but the 1 kilometer long tunnel isn't very pleasant. If I knew it before I would have stopped before the tunnel, the most beautiful spot on the trail.

There are several other waterfalls along the trail and in the area of São Vicente at the northside of Madeira. One of my favorite is a tall one. Cascata Agua d'Alto, west of São Vicente along road ER101. There are many other waterfall on Madeira. You can visit my Portugal section for more information or click on the link to see a Google map with waterfall on Madeira.