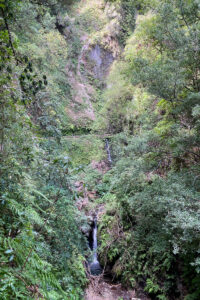 Cascata Ribeira do Passo is not an official named waterfall but this was one of the few waterfalls with a respectable waterflow, when we visited Madeira Oktober 2023. So I named it after the name of the rivercourse Ribeira do Passo. Cascata Ribeira do Passo is located along the trail "PR16 Levada Fajã do Rodrigues" , one of the better and easier hikes you can make on Madeira. The trailhead is located south west of Sao Vicente. You can park your along the road (gps 32.779723, -17.048012) and there is enough space to do this.
The official start of "PR16 Levada Fajã do Rodrigues" is a little away form the parking at gps 32.778441, -17.048300. This is also the place where you can find the information board of the PR16. Already after 5-10 minutes you will see an unnatural waterfall coming down from a tributary levada. Not very special but nice to see. At this hike you don't need signs, you just have to follow the "Levada Fajã do Rodrigues".
The first waterfall you encounter, after 30 minutes) is the tall Cascata da R. dos Pombos (if there is any water in it), an impressive and gorgeous waterfall. After another 15-20 min you will reach Cascata Ribeira do Passo. This is also the entrance of one of the longest Levada tunnels you can take, 1 kilometer long. You need light to do this (be sure your battery of your phone is charged).
I am not sure which of the two waterfalls you see is the rivercourse of Cascata Ribeira do Passo. After the small tunnel there is a hidden waterfall with a respectable volume where I saw people canyoning. The other waterfall is just 50 meter further down the trail and is a tall waterfall with a small volume. Because they are s close to each other I will mention them both. I think this spot (just before the long tunnel, is one of the most scenic places I visited on Madeira. I think you don't have to go in the 1 kilometer tunnel because the trail ends very soon at a canyon with a small waterfall in the river Ribeira do Inferno. The name implicates that it can be a very wild stream, but not in summertime (probably only after heavy rainfall).
Cascata Ribeira do Passo drops down over multiple stages. When approaching the waterfall you see the lower section (with two drops) and a little further you also see the upper drop. I think together the waterfall has a total height of approximately 50 meter.

There are several other waterfalls along the trail and in the area of São Vicente at the northside of Madeira. One of my favorite is a tall one: Cascata Agua d'Alto, west of São Vicente along road ER101. There are many other waterfall on Madeira. You can visit my Portugal section for more information or click on the link to see a Google map with waterfall on Madeira.