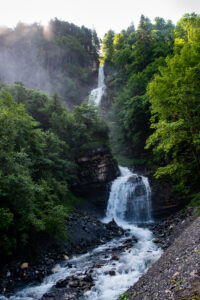 The Diesbachfall is one of the bigger and more photogenic waterfall of the region Glarus in Switzerland.
The Diesbachfall is located in the town called Diesbach! From road 2 or 3 take road 17 and drive to Diesbach. Just before entering the little village from the south you already can see the Diesbachfall thundering down. Before crossing the bridge over the river Diesbach go right and drive further until you reach a small parking. I am not sure this is a parking but I parked my car there (gps 46.947172, 9.031155). From here it is a very short walk to the base of the waterfall.
The waterfall consists of two major stages and a few smaller drops. The biggest single drop is appr. 40 meter and the total height is 120 meter. At the base of the waterfall there are picnic facilities and since 2017 there is also a bbq grill.
It is also possible to park the car in the village (gps 46.946769, 9.028200) and walk to the waterfall in 10 minutes.
Best time to visit the Diesbachfall is early summer when a lot of snow is melting down the mountains. Because the Diesbachfall falls to the west it is better to visit the waterfall in the afternoon. Otherwise the backlight will bother you (when the sun is shining). When I was visiting the waterfall it was early in the morning and it was almost impossible to take good pictures.
Along road 17 between Glarus Sud and Untersachsen there are several other nice waterfalls. The most beautiful ones are Berglistüber wasserfall and Stäubifall (also called Stäuben).