Geisfossen
(Geistdalfossen, Geisdalsfossen)
Geisfossen or Geisdalsfossen is a remarkable waterfall near Espe, in the Jostedalen, in the region Sogn og Fjordane, Norway.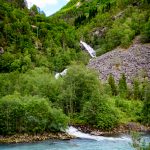 From Gaupne it is a 26 kilometer drive, passing Ryfossen and Havardsfossen, before you will reach the exit (to the right) to Espe. A small road leads to a bridge over the river Geisdola where you can see 3 separate drops of Geisfossen. There is a fourth one (most powerful) you can't see from the bridge.
I was a little bit disappointed when seeing Geisfossen close by. Geisfossen is such a waterfall that is mor impressive from a distance. The river Geisdola isn't particularly a powerful river and I expected more power. Nevertheless it was a nice view with the sun shining on the tops of the tiers.
Afterwards I drove back to the main road and continued driving to the Nigardsbreen. Soon you will have an overall view on Geisfossen. Now you can see the fourth drop and from a distance it look quit a nice waterfall.
Although Geisfossen is not a very spectacular waterfall, it is situated in a very beautiful surrounding. According to the online map Norgeskart, Geisfossen has a single drop of 175 meter, but it seems to be less….
Normally Geisfossen is a twin fall but sometimes there are 3 or more flows coming down. I was surprised to see that midsummer the flow of the river was quit low. The river Geisdola is being fed by the glacier Sporteggbreen (23,8 km2 in 2006). The weather was nice, temperatures where appr. 16-19C and it was sunny.
Nevertheless I think summertime is the best period to visit Jostedalen and all of its waterfalls. For the Geisfossen, late in the afternoon is a good time to take pictures.
The Jostedalen is surrounded by the biggest glacier on the mainland of Europe, the Jostedalsbreen. Jostedalbreen has a total area of 487 km2. Several branches of the glacier reach down into the valleys, like the Nigardsbreen.
South of the Geisfossen there is also an unnamed waterfall with a tremendous view from the bridge over the river.
There are many waterfalls in the Jostedalen, but only four of them are well known. The most famous one is probably Geisfossen, near Espe. At the beginning of Jostedalen you can see another great waterfall at the east side of the valley, Ryfossen. Ryfossen has a total height of 110-350 meter and is perfect for a nice picture.
At the end of the Jostedalen you will find the glacier Nigardsbreen where it still is possible to make a glacier walk. I visited Jostedalen twice, last time July 2017, late in the afternoon. Sun was shining and there was a really beautiful kind of light shining on the glacier lake.