Reichenbachfall
(Reichenbachfälle)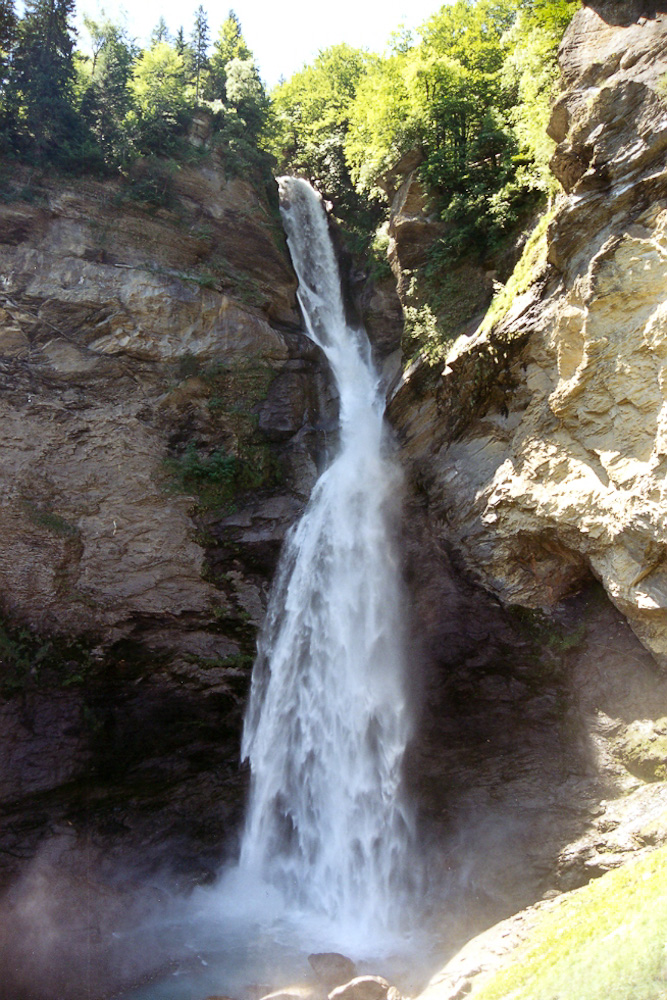 The Reichenbachfall is an impressive waterfall near the village of Meiringen near Brienz in the region Berner Oberland, Switzerland.
From Brienz (road 5) drive to Meiringen over road 6. After the roundabout there is an exit to the Reichenbachfall cable station. Directly after the exit there is a parking where you have to park your car (gps 46.720606, 8.188974). There are only a few parking spots here but you also can park your car at the Alpbach parking when driving to the city centre of Meiringen (you can't miss this huge parking!!).
To reach the viewpoint on the Reichenbachfall you have to take the funicular (cable car) up to the viewpoint. You can purchase a ticket at the driver. From the Reichenbachfall you can walk down again to your car or combine it with the Aareschlucht. Total roundtrip time you need is approximately 2-3 hours.
You can visit the Reichenbachfall from May to October during daytime.
The Rychenbach river has its source in the Rosenlaui glacier. This forceful waterfall is 90-120 meter high and up to 40 meter wide. Three viewing platforms, not far from the top station, offer a breathtaking view over the thundering waterfalls as well as the Haslital.
The Reichenbachfall is actually a serie of waterfalls with a total height of 250 meter. The biggest single drop is the upper waterfall and is 90 meter high, although most figures speak of 120 meter.
The Reichenbachfall is a famous waterfall, known from the end scene of "the final problem, a Sherlock Holmes book of the writer Arthur Conan Doyle. It is also the title of the Sherlock Holmes film out of 2007. Sherlock Holmes is very important for the business in and around Meiringen. There are a lot of tourist shops with Sherlock Holmes merchandise. Once a year there is even a Sherlock Holmes festival in Meiringen.
We loved our visit May 2005 and I certainly want to visit the Reichenbachfall again when I am in Switzerland.
Today, a hydro-electric power company harnesses the flow of the Reichenbach Falls during certain times of the year, reducing its flow.
Near the Reichenbachfall there are several other interesting waterfalls that can be visited. One of my favorite is the Giessbachfälle near Brienz with a total falling height of 391 meter.