Slap Grmečica is a small but scenic waterfall near Nomenj in the region Gorenjska – Radovljica, Slovenia.
Driving on road 209 from Bled to lake Bohinj, you will see a sign along the road for slap Grmečica. This is near the train station of Nomenj. At the crossing you can left (hard to see) onto the parking of the restaurant and then directly left (sharp turn). Here a small gravel road leads to a aqueduct, turn right and go underneath the railway. Follow the gravel road for a few hundred meters until the road ends at a parking near the river Sava Bohinjka.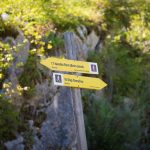 Here a short trail starts going to Slap Grmečica. Walk towards the river and cross the suspension bridge. Go right and walk along the river for a while until you reach Slap Grmečica. There are signs. The walk is very easy and takes appr. 10-15 minutes.
Slap Grmečica is a very beautiful waterfall that plunges down over 6 meter. The water flux in summertime isn't very high but still enough to enjoy the beauty of it.
The source of the river Grmečica lies 1,5 kilometer upstream in a gorge. The gorge is often used for canyoning (canyoning Bob) and when we were there July 2017, they were jumping of the top of the waterfall, nice to see.
This made me curious and we wanted to check out the upper part of the river Grmečica. Walking back from the waterfall you can go over the fence and walk into the meadow. Keep left there you can go ver the fence again to a path that goes up to the top of Slap Grmečica.
Much further we didn't go but you can see another part of the river cascading down in craggy formed canyon.
There are several other waterfalls in the area, mainly located near lake Bohinj. The most famous one (and most touristic) is slap Savica. A beautiful waterfall that is easy to reach, perfect with children.